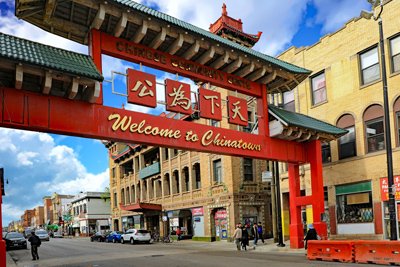 A lively neighborhood with incredible eats, and a rich sense of culture and community
Located along the south branch of the Chicago River is Chinatown. This neighborhood has over a century of history and continues to be the center of the Chinese community and culture in Chicago. Chinatown is mainly populated by families and retirees, and many of the homes are condos and apartments.
The main hub of this neighborhood begins at the crossroads of W Cermak Road and S Wentworth Avenue. Here, a large, ornate gate welcomes residents and visitors alike. Along this main drag, colorful gift shops, Chinese grocery stores, restaurants, and bakeries line the streets. Some other local attractions, visit Ping Tom Memorial Park, Pui Tak Center, and The ART Gallery.
School District: Chicago Public Schools
Local Information: Chinatown
Niche Ratings: Chinatown