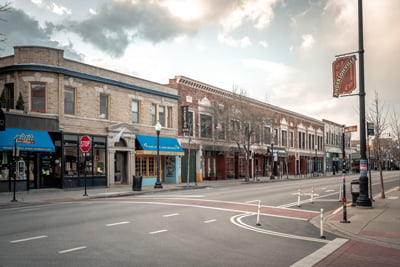 Finding the right combination of characteristics in a neighborhood can be difficult. Naturally we all have differing priorities, which also change over time and life events… There is no single "perfect" neighborhood, but fortunately Chicago has huge number that vary in atmosphere and services. Maybe you should consider moving to Andersonville.
Andersonville is a welcoming, community-oriented neighborhood known for local shops.
About 10 miles north of downtown Chicago is family-friendly Andersonville. This neighborhood has a both urban and suburban vibes and is known for its Swedish roots and a large LGBTQ+ community.
Andersonville has a vibrant, local flair. Its main street features a variety of interesting, independent businesses… everything from neighborhood restaurants to artisanal shops.
The residential areas are a mix of apartment buildings, single-family homes, and condos. Andersonville enjoys an eclectic, local atmosphere despite its longer commute to downtown.
Useful Links for Moving to Andersonville:
About Moovers Chicago
Moovers Chicago is a family-owned, professional moving company based in Chicago. We offer a range of services, including residential, commercial moving and storage services. We also have packing and unpacking services to further ease the burden of moving. No matter the size of the job, our first priority is to make your move as stress-free as possible.