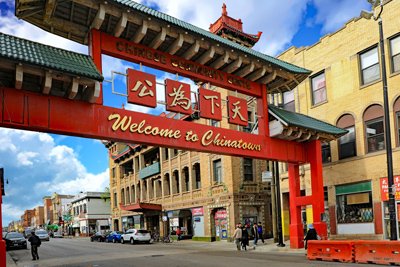 Since there are so many great communities and neighborhoods in Chicago, it may be hard to find the right fit. If you tend towards a family-oriented, urban neighborhood steeped in culture, you should consider moving to Chinatown.
Chinatown is a lively neighborhood with incredible eats, and a rich sense of culture and community
With over a century of history, Chicago's Chinatown continues to be the center of the Chinese community and culture. The entrance to this neighborhood is found at the crossroads of West Cermak Road and South Wentworth Avenue where a large, ornate gate welcomes residents, visitors and, naturally, tourists.
Chinatown is predominantly populated by families as well as retirees. Accordingly housing in Chinatown tends towards apartments and condos. Along the main drag, colorful gift shops, Chinese grocery stores, restaurants, and bakeries line the streets. Some other local attractions include, the Ping Tom Memorial Park, the Pui Tak Center, and The ART Gallery.
Useful Links for Moving to Chinatown:
About Moovers Chicago
Moovers Chicago is a family-owned, professional moving company based in Chicago. We offer a range of services, including residential, commercial moving and storage services. We also have packing and unpacking services to further ease the burden of moving. No matter the size of the job, our first priority is to make your move as stress-free as possible.