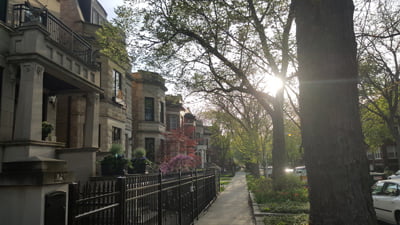 Finding the right place to live can be difficult; you need to find the right mix of characteristics for a place to be home. Fortunately Chicago has vast array of neighborhoods and suburbs to choose from. You should consider moving to Lakeview.
Lakeview: a relaxed, local atmosphere with sports, outdoor recreation, arts and culture nearby
Found on the lakefront is the laid-back neighborhood of Lakeview. This community area is often broken down into West, Central, and East Lakeview, with other neighborhoods being included in the mix. For example, Wrigleyville and Boystown are popular locales on the central and east sides, and Roscoe Village borders its west edge.
Lakeview has convenient access to an array of outdoor activities near the lakefront. On the other hand, Lakeview is the home of the historic Music Box Theatre, with a range of indie, foreign films, and cult classics.
With a mix of apartments, condos and row houses, Lakeview is a great neighborhood for families, young professionals, and (especially) baseball lovers.
Helpful Links for Moving to Lakeview
About Moovers Chicago
Moovers Chicago is a family-owned, professional moving company based in Chicago. We offer a range of services, including residential, commercial moving and storage services. We also have packing and unpacking services to further ease the burden of moving. No matter the size of the job, our first priority is to make your move as stress-free as possible.