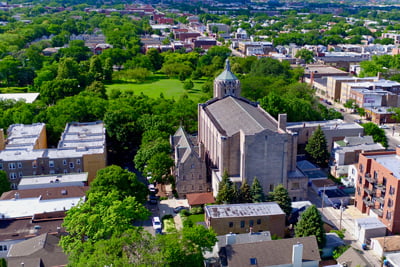 Anyone interested in an affluent urban neighborhood with a small-town feel should consider moving to Lincoln Square.
Lincoln Square: An affluent small-town neighborhood with diverse culture and old-world charm
Enjoy a small-town feel in one of Chicago's most culturally diverse and affluent neighborhoods, Lincoln Square. Located in the city's north side, this neighborhood offers an old-world character that's great for couples and families. Lincoln Avenue, in Lincoln Square, even features cobblestone streets. Homes range from single-family row houses, condos, apartments to mansions. Don't be surprised with $1M+ price tags though.
Lincoln Square features many specialty shops and a diverse variety of Chicago restaurants. Although Lincoln Square is vibrant with a variety of cultural influences, the neighborhood has German roots. This is reflected in Lincoln Square's annual summer festival, Maifest. Overall, Lincoln Square has a calm and friendly atmosphere.
Helpful Links for Moving to Lincoln Square
About Moovers Chicago
Moovers Chicago is a family-owned, professional moving company based in Chicago. We offer a range of services, including residential, commercial moving and storage services. We also have packing and unpacking services to further ease the burden of moving. No matter the size of the job, our first priority is to make your move as stress-free as possible.