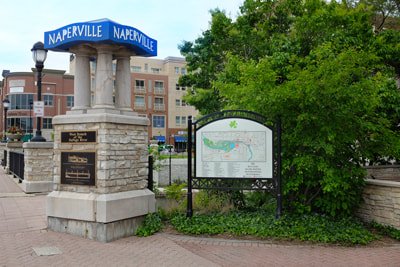 A popular and safe suburb with great a family-friendly atmospheres, you should consider moving to Naperville.
Incorporated in 1831 Naperville is Illinois' fourth largest city
Ranked as one of the safest suburbs, Naperville is a lively town that truly has something for everyone. For those looking for job opportunities, Naperville is home to major employers like Nokia, Edward Hospital & Health Services, BP, and more. Downtown Naperville, along the DuPage River, is great for going out where you can find trendy bistros and local shops. You could also attend local events like the Classic Car Show or Chocolate Walk. This Chicago suburb is filled with historic homes that have been renovated with a combination of old and new.
Naperville also has many family-friendly activities. Stroll along Naperville Riverwalk, where you can visit the Dandelion Fountain, or go paddle boating, or look at the art along the Century Walk. You can cool off in the summer heat with a swim in the former quarry-turned-swimming pool at Centennial Beach. Exploring the DuPage Children's Museum is a great family outing.
Useful Links for Moving to Naperville
About Moovers Chicago
Moovers Chicago is a family-owned, professional moving company based in Chicago. We offer a range of services, including residential, commercial moving and storage services. We also have packing and unpacking services to further ease the burden of moving. No matter the size of the job, our first priority is to make your move as stress-free as possible.