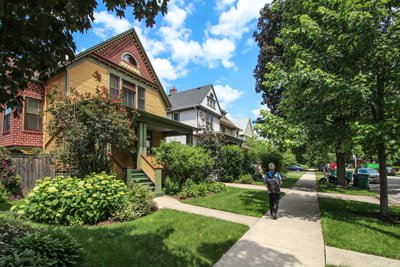 A family-oriented community known for its architecture, consider moving to Oak Park.
Oak Park: Known for its architectural heritage and diverse population
Oak Park is an ideal suburb for those who want to be close to Chicago without living directly in the city. At just 15 minutes west of Downtown Chicago, this historic suburb gives residents the perfect mix of big city feel and small town life. Many of the homes are heavily inspired by Frank Lloyd Wright's prairie-style design, but you can also find homes with Queen Anne and Colonial influences. Additionally Oak Park has great walkability and access to the CTA Green Line, so it's easy to get around and commute into the city.
In Oak Park you can attend events like What's Blooming in the Oak Park Arts District. Scoville Park has tennis courts and plenty of green-space, as well as a summer concert series. In the Mediterranean gardens at Oak Park Conservatory, you can see interesting flora and fauna. Learn more about the life of Ernest Hemingway while taking a tour at Ernest Hemingway Birthplace Museum.
Useful Links for Moving to Oak Park
About Moovers Chicago
Moovers Chicago is a family-owned, professional moving company based in Chicago. We offer a range of services, including residential, commercial moving and storage services. We also have packing and unpacking services to further ease the burden of moving. No matter the size of the job, our first priority is to make your move as stress-free as possible.