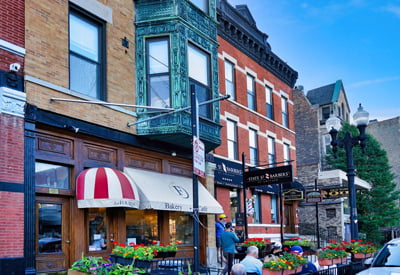 Skewing towards a younger demographic Old Town still is great place for all adults. Consider moving to Old Town.
Old Town: A buzzing neighborhood that mixes trend and tradition
Located between Lincoln Park and River North is Old Town. Old Town is home to one of the world's most famous comedy clubs: The Second City (which produced more than its fair share of famous comedians). Taking a cue from the club, the neighborhood's atmosphere is laid back, fun and lively.
Old Town is great for adults of all ages but is particularly popular for younger crowds. North Wells Street, the main street in Old Town, has many trendy boutiques, restaurants and bars. Homes here are a mix of apartments, condos, and brownstones.
Useful Links for Moving to Old Town
About Moovers Chicago
Moovers Chicago is a family-owned, professional moving company based in Chicago. We offer a range of services, including residential, commercial moving and storage services. We also have packing and unpacking services to further ease the burden of moving. No matter the size of the job, our first priority is to make your move as stress-free as possible.