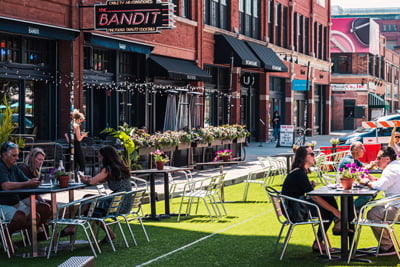 With plenty of options for dining and entertainment, you should consider moving to West Loop.
West Loop: A foodie destination with tons of amenities
West Loop is great for those who work in the Loop due to its proximity. Additionally it can be ideal for healthcare professionals since many hospitals and medical facilities are nearby. Most homes in West Loop are high-rise rental apartments.
West Loop's popularity has been increasing recently due to its numerous options for shopping and dining; even becoming known as a "foodie mecca." Restaurant Row is particularly popular for a variety of creative and international cuisines. Furthermore, other areas like Greektown and Little Italy are nearby.
For sports fans, West Loop is one of the best neighborhoods for its proximity to the United Center. This neighborhood is also close to theaters, the Chicago Symphony Orchestra and the Joffrey Ballet.
Useful Links for Moving to West Loop
About Moovers Chicago
Moovers Chicago is a family-owned, professional moving company based in Chicago. We offer a range of services, including residential, commercial moving and storage services. We also have packing and unpacking services to further ease the burden of moving. No matter the size of the job, our first priority is to make your move as stress-free as possible.