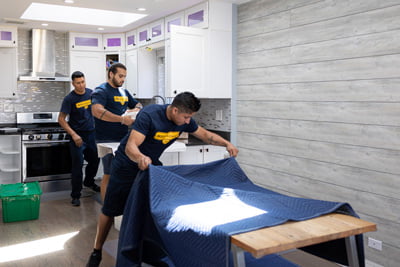 Relocating to Arlington Heights
Arlington Heights is a suburb of Chicago with a population of around 77,000 and a median income of $107K. Arlington Heights, in Cook County, offers residents a mixed urban / suburban environment, amazing schools, plenty of outdoor activities, and cultural diversity. Set yourself up for success in Arlington Heights by making informed choices before you move. The easiest is choosing Moovers Chicago as your Arlington Heights movers.
Real Estate in Arlington Heights
The median home value is $361K with around 73% of residents owning their home; median property tax is $2,200. For those who rent, the median rent is $1,500 / month (compared to the national average of $1,163).
Getting Around in Arlington Heights
Unlike many suburbs, Arlington Heights is incredibly walk-able. With a score of 90 (out of 100), it is rated a "walker's paradise" and means that most, if not all, daily errands can be done on foot. Additionally, Arlington Heights has a decent bike-ability score of 71, which indicates the presence of plenty of infrastructure for cyclists (bike lanes and trails, hills, road connectivity, etc.).
Arlington Height's two train stations provide commuters Metra service to downtown Chicago (UP-NW line) in just over 30 minutes during rush hour. With a combined total of 12 parking lots and 1742 spaces (permit and daily parking), commuters can park-and-ride for their daily commute.
Things to do in Arlington Heights
Arlington Heights hosts a number of community events throughout the year. Besides the annual holiday celebrations for Thanksgiving, Halloween, Fourth of July, they feature events like Sounds of Summer concert series and Arlington Alfresco (from May - October), which is an open-air, pedestrian friendly, shopping, dining & entertainment experience.
Arlington Heights is home to more than 100 restaurants. The downtown includes nearly 30 restaurants and night life destinations that offer a variety of cuisine options including sushi, authentic Irish food, tapas, gourmet burgers, Thai food, thin crust pizza, Italian dishes, Mexican food, and more. Additionally, you can find one-of-a-kind items at over 30 unique stores and quaint boutiques.
Nearest Neighborhoods
About Moovers Chicago
Moovers Chicago is a family-owned, professional moving company based in Chicago. We offer a range of services, including residential, commercial moving and storage services. We also have packing and unpacking services to further ease the burden of moving. No matter the size of the job, our first priority is to make your move as stress-free as possible.