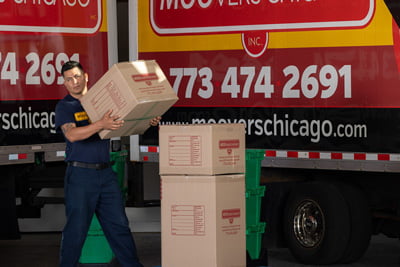 Relocating to Chicago's Chinatown
Chicago's Chinatown is a vibrant neighborhood, steeped in Asian culture with its roots in the late-1800s. It's not uncommon to regularly hear Cantonese being spoken, as this is still a busy center for Chinese businesses across the Midwest U.S. While there are a few parks, Chinatown is a compact urban neighborhood with housing tending toward owner-occupied homes and apartments. knowledgeable and prepared will make your move and experience in Chinatown extremely positive. To that end,it is important to hire an experienced, local moving company. Moovers Chicago is your Chinatown movers.
Parking and Transportation in Chinatown
In general, parking in Chinatown is not bad compared to many urban areas. Street parking available on several streets and Chinatown has several parking garages with monthly rates. Additionally many apartments have a parking space to lease.
Alternatively, a car is really not necessary to live and commute in Chinatown. This neighborhood is extremely walkable and easily navigable roads for cyclists. Furthermore, Chinatown is part of a world-class public transport system. The only reason to have a car is for long trips out of Chicago.
Real Estate in Chinatown
Chinatown offers a mix of types of housing: most homes are in the $250K - $300K range, which is slightly below the Chicago average; yet most residents rent their homes with an average rent is approximately $1,650 per month.
Things to do in Chinatown
Living in Chinatown is never boring, whether it's dining, shopping or attractions. Finding excellent dining is never a problem with Asian and Asian-fusion restaurants lining the streets. You can visit Chinatown Square, a two-story outdoor mall, with local stores and predominant artwork. Additionally, the Hong Kong market is market that specializes in Asian food. Finally, there are a number of museums and organizations, like the Chicago Chinese Cultural Institute and the Chinese-American Museum of Chicago.
About Moovers Chicago
Moovers Chicago is a family-owned, professional moving company based in Chicago. We offer a range of services, including residential, commercial moving and storage services. We also have packing and unpacking services to further ease the burden of moving. No matter the size of the job, our first priority is to make your move as stress-free as possible.