10 Ways Your Home Move Is Better With Moovers Chicago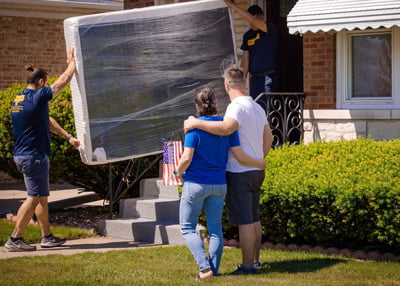 Finding your new place is often a task that takes up plenty of time and effort by itself, and by this point you will often be keen to get moving and started with the next phase of your life. However, the truth is that this is only the first step in the process, and if you've just agreed a move to a new home in Darien, then there is plenty of work still to do, including finding the movers. Having an experienced company like Moovers Chicago in your corner is a great advantage though, and takes the strain of moving day off your hands, so you can give your attention to all the other tasks on your plate.
No Heavy Lifting

By letting Moovers Chicago handle moving day, you know that you don't have to worry about pulling friends or family together to carry all the heavy furniture and boxes that will need to be moved.

Fewer Arrangements To Make

No renting trucks or vans, no having to get a day that works for all the people who are helping, having a moving company really just means you know everything on moving day will be handled for you.

You Can Focus On Other Areas To Prepare

There are so many other things that you need to arrange, from moving services and utilities to your new place, through to local administration and taxes, so having us handle moving day gives you more time for everything else.

No Need To Hire Your Own Truck

We have a fleet of vehicles available to us, so we will assign a team of movers with a suitable vehicle that can handle the needs of your move to Darien.

Professional Handling For Your Possessions And Furniture

When you use Moovers Chicago, you know that everything is in safe hands, as all of our teams are experts at handling furniture, even the larger and heavier items, and moving them safely.

Additional Packaging Materials Available

If you need a little extra help for delicate items, we can supply wardrobe boxes so that your delicate clothes can be transported while still hanging, and also rent a TV box if you haven't kept the original packaging.

Flexibility For Your Move

We know everything doesn't always go to plan, so if you need to change the date of the move, we're happy to do so for free as long as you give 72 hours notice. We can also arrange short term storage if needed.

A Moving Team With Local Knowledge

We've been helping people to move home to Darien and across the area for many years, so we have the local knowledge of property in the different areas, which will help make for a smoother home move.

Transparent And Honest Pricing

We believe in being up front with you from the outset, so there are never any hidden costs and all of our additional services are also clearly and transparently priced.

Peace Of Mind From A Professional Company

We have an excellent reputation that has been built up over many years, so from start to finish when you use Moovers Chicago, you're in safe hands.