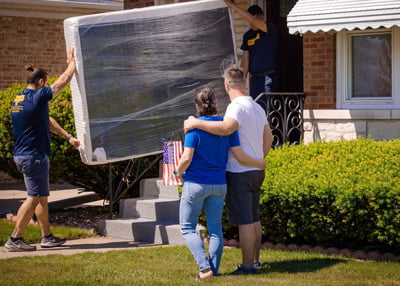 Relocating to Darien
Darien is a suburb of Chicago with a population of around 22,000 and a median income of $104K. Darien, in DuPage County, is one of the best places to live in Illinois and offers residents a dense suburban environment, good schools, outdoor activities, and cultural diversity. Set yourself up for success in Darien by making informed choices before you move. The easiest is choosing Moovers Chicago as your Darien movers.
Real Estate in Darien
The median home value is $343K with around 81% of residents owning their home; median property tax is $2,000. For those who rent, the median rent is $1,550 / month (compared to the national average of $1,163).
Getting Around in Darien
Like many suburbs, Darien is car dependent. With a Walk score of 35, nearly all daily errands need to be done via car. Darien has a few bike lanes, but does not have much infrastructure for cyclists, resulting in a Bike score of 46.
Darien does not have its own Metra rail station but it is serviced by two PACE bus lines (665, 715), that give access to rail stations (Glen Ellyn, Westmont).
Things to do in Darien
The Darien Park District manages 13 general-purpose parks, 4 athletic parks, a community center and an indoor sports complex with an ice rink. The Darien Park District also offers a well-rounded, diverse selection of recreational programs, activities & special events that span early childhood to senior citizens.
If you are looking for a place to relax in Darien, you can enjoy something delicious maybe a Stiletto, Americano (Dry) or maybe a Great Expectations. While in Darien cruise by Q Billiards & Sports Bar, Corner Clubhouse Bar & Grill or Tracy's Tavern.
About Moovers Chicago
Moovers Chicago is a family-owned, professional moving company based in Chicago. We offer a range of services, including residential, commercial moving and storage services. We also have packing and unpacking services to further ease the burden of moving. No matter the size of the job, our first priority is to make your move as stress-free as possible.