7 Reasons To Use Moovers Chicago For An Elmhurst Home Move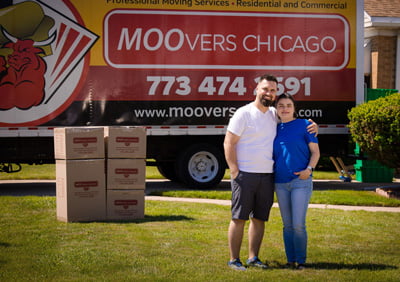 You may not have had to move home too many times in the past, but the more times that you do move home by yourself without a good moving company, the more likely you are to promise that you'll never do it again. Having Moovers Chicago on board as your movers if you're moving to a new place in Elmhurst is really a no-brainer, as we've been helping people to move to the area, and across Chicago for a very long time. If you've just secured a new home in Elmhurst, here are a few reasons why you should come to us to handle your next home move. Moovers Chicago is the premier movers for Elmhurst.
Highly Recommended Service

We take pride in the reputation that we have developed over the years, and whether you're looking at online review sites or our accreditation on the Better Business Bureau site, you will see that many of our customers are happy to give our service a glowing recommendation.

Experienced Moving Staff

When we book your home move we will arrange for a suitable team of professionals and the right vehicle to be available for your move. This means you're only paying for the team and vehicle you need, and that they will have the right experience to get your home move done right.

Family Run Local Company

We have been established and operating in the Chicago area for years, and when you hire Moovers Chicago you will have a family run company that plays its role in the local community, and the different areas of the city where our staff live too.

Professional Care For Your Possessions

One of the things that you really don't want to happen during moving home is damage or breakage to your possessions. By using our professional services, you can be confident that everyone has the skills and experience to move even heavy furniture and items safely and without damage.

Extra Services Available

If you have a busy family or work life and struggle for time, Moovers Chicago can offer a flat pack furniture disassembly and reassembly service, so that shelves and wardrobes arrive safely in the new place. We can also offer a furniture wrapping service to keep other items safe during transit too.

A Flexible Home Move

We know things don't always go smoothly, so we try and provide as much flexibility as we can. While we're not a storage company, we can arrange short term storage for a few days if needed, and can also rearrange home moves for free as long as we get 72 hours notice.

A Less Stressful Home Move Process

Moving home with us will take the strain from moving day for you, and that can make everything a whole lot less stressful in what is a major life event for most people. By having us on your side, you can focus on all of the other arrangements and we will take care of getting everything from your current home over to the new Elmhurst property.
Nearest Neighborhoods
Villa Park
Lombard
Addison
Oakbrook Terrace
Berkeley
Hillside