Why Hire A Professional Company For Your Home Move?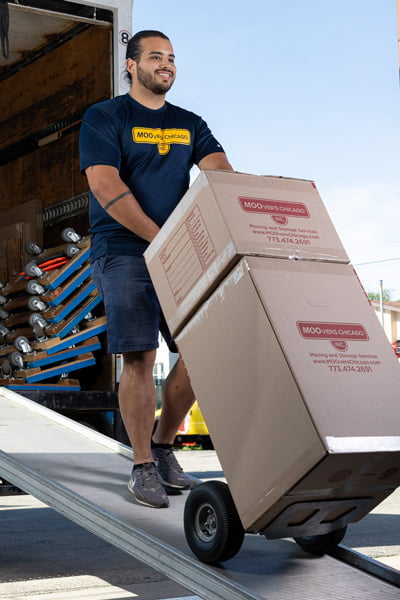 There are so many things to think about and arrange when you are preparing for a home move, and it can be one of the most stressful as well as one of the most exciting times when you are heading for a new place. One of the things you can do to make everything about your home move to Glen Ellyn a little easier is to hire a professional movers like Moovers Chicago to do all the heavy lifting on moving day. There are also a range of other services you can get, such as dismantling flat pack furniture in your current home and assembly at your new place, as well as protective wrapping for furniture too. Moovers Chicago is the premier movers for Glen Ellyn.
Professional Care And Handling For Your Possessions
One of the main reasons that people will want to have Moovers Chicago on board for moving home is that trained professional staff are going to be more experienced at actually moving furniture. This means that they will know where everything needs to go in the truck so that it is transported safely, as well as being able to handle large or bulky items safely as well. This professional care for your worldly possessions means everything is more likely to arrive at your new home in one piece, and that you don't have any damaged, scratched or scuffed furniture to deal with upon arrival in your new home in Glen Ellyn.
Efficient And Quick Home Moves
Anyone who has either helped friends or family to move home, or has actually completed a home move by themselves will know how exhausting and tiring it can be to move large items of furniture over to a new property. As most people aren't experienced in this and don't do it on a regular basis, getting large items safely through doorways and other narrow spaces can make it a long and laborious process. A professional team will know exactly how to manage each hurdle in the move, and can get everything on the move quickly and efficiently.
Fully Insured And Regulated
Another attraction of using a well established company like Moovers Chicago is that we are fully insured and regulated by local government, so you know that we will offer a proper service. We are proud to have offered this service to people moving to Glen Ellyn and across Chicago for many years, and we hope we can help hundreds more people to move over the years to come. We also carry all of the right liability insurance for all of the home moves that we carry out, to give you that extra level of peace of mind that everything will be fine.
Give Yourself More Time To Focus On The Other Aspects Of The Move
By having us on board for your home move, it will give you more time to do all the other tasks that are involved in moving home, without having to worry about moving day. From the administration and planning of services and utilities, through to packing everything ready for the move, moving with us is a much less stressful experience.