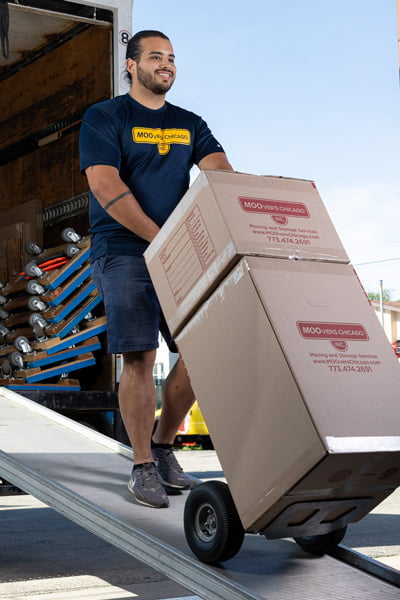 Relocating to Glen Ellyn
Glen Ellyn is a village in Illinois with a population of approximately 28,000 and a median income of $118K. Glen Ellyn, in DuPage County, is one of the best places for families in Illinois; it has an urban/suburban feel, amazing schools, and low crime. Set yourself up for success in Glen Ellyn by making informed choices before you move. The easiest is choosing Moovers Chicago as your Glen Ellyn movers.
Real Estate in Glen Ellyn
The median home value in Glen Ellyn is $432K with around 78% of residents owning their home; median property tax is $2,500. For those who rent, the median rent is $1,200 / month.
Getting Around in Glen Ellyn
Like many suburban areas, Glen Ellyn is car dependent. With a walk score of 57 (out of 100), Glen Ellyn is somewhat walkable meaning some errands can be done on foot. A bike score of 49 means there is minimal bike infrastructure (i.e. bike lanes, etc.) for getting around on a bicycle. Glen Ellyn has a Metra rail station that offers a 36-minute ride into Chicago's Loop during rush hour. Suburban PACE bus services provide local communities access to Glen Ellyn's Metra station.
Things to do in Glen Ellyn
Glen Ellyn offers an array of family-friendly activities as well as those for parents on-the-town. Lake Ellyn Park features a waterfront picnic, bike and walking paths, fishing, a historical site, and ice skating during the winter. The Village Links of Glen Ellyn is a notable 27-hole golf course known as one of the Chicago area's top golf courses.
Notable restaurants include Alfie's Inn, as medieval-themed restaurant with top-notch burgers and ribs. Maize + Mash is an eclectic, vintage, laid-back bistro with a notable cocktail menu and large selection of whiskeys. Made in Italy Trattoria is quaint restaurant with delicious homemade Italian fare, and a romantic environment.
Nearest Neighborhoods
About Moovers Chicago
Moovers Chicago is a family-owned, professional moving company based in Chicago. We offer a range of services, including residential, commercial moving and storage services. We also have packing and unpacking services to further ease the burden of moving. No matter the size of the job, our first priority is to make your move as stress-free as possible.