Moving Home To Hanover Park With Moovers Chicago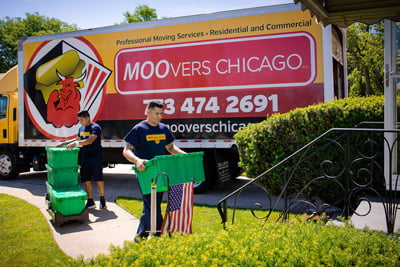 When it comes to finding the right moving company, there are several factors that you should be looking for, and while price is of course a factor, it is also important to consider the level of service that you receive. Once you've secured your new home in Hanover Park, whether it is by purchase or a new home to rent, then you will start to move your thoughts towards arranging everything for moving day, including the movers. Once you know when you will be moving give us a call so that we can make sure we have you in our schedule nice and early. Moovers Chicago is the premier movers for Hanover Park.
Why Choose Moovers Chicago?
Moovers Chicago is a family run company that has been helping people with moving home both in Hanover Park and across the Chicago area for many years. We have built up a reputation for our transparent way of operating with no hidden costs, and for providing an excellent and safe moving service for our customers. You can view the reviews that our customers leave us on sites like the Better Business Bureau, where we are accredited, as well as other review sites like Google Reviews and Yelp.
Preparing For Moving Day
When it comes to making moving day as easy as possible, you should start to think about packing a few weeks before, putting decorative items and those things you don't use too often in boxes. This will mean there is less to pack on the day before moving day, and you can then put all of those essentials that you will want to unpack on your first night in your new home together. We also ask that you do make arrangements to look after children and pets away from the properties during the move, to ensure they remain safe and that our team can work efficiently.
What To Do On The Day
On moving day, if the property you are leaving or your new home doesn't have a drive, we do ask that you secure a space for the moving truck early, so that our team can get the work done efficiently. The team leader will then arrive with the truck and the moving team and they will carry out the work and move the furniture and boxes quickly and efficiently for you. They will then move these items and leave them in the designated rooms in your new Hanover Park home, where you can spend the rest of the day unpacking and starting to settle in.
Additional Services Moovers Chicago Can Provide
We all know how busy life can be, so Moovers Chicago can also help with a furniture packing service the day before your home move, as well as dis-assembling and re-assembling larger furniture items in your new home. We can also offer wardrobe boxes to help keep your clothing safe and clean during the move, and TV boxes to protect your TV sets as well. Also, if you don't have moving dates that align exactly, we can also offer short term storage as well if required.