5 Reasons Why Moovers Chicago Should Be Your Moving Company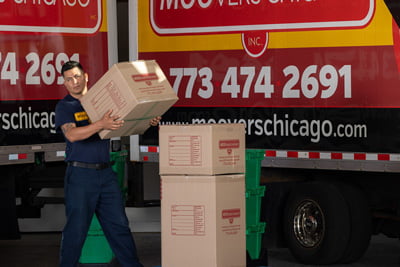 So, you've just signed the paperwork on a new home in Hinsdale? You may think that all the work of house hunting and getting the place over the line has been tiring already, but now you have to start getting ready to move home! We know just how stressful and overwhelming it can be, whether it's just yourself or you've got a family to prepare and pack for, all before you have to get started with all the admin of moving home too. We can't deal with that for you, but Moovers Chicago is the natural choice to get everything done for you on moving day, so that you can direct your time to all the other tasks that will need completing. Moovers Chicago is the premier movers for Hinsdale.
Excellent Customer Service

We take pride in the service that we are able to provide for our customers, and all of our team aim to take the best care of you, your furniture and possessions from your first call to us through to the very last box being placed in your new Hinsdale home. We take the responsibility of helping you during this significant life event seriously, and we are always here to help and answer any questions that you may have throughout the process.

Highly Reputable Company

Our family run company has built up an excellent reputation for the service we provide, and we were proud and delighted when we were accredited by the Better Business Bureau for the service we provide. We are also happy that so many of our valued customers were delighted with our services and have left us reviews on sites such as Yelp and Facebook Reviews, where you can see what they have to say about us.

Professional Care For Your Furniture And Possessions

When you have Moovers Chicago on your side, our team are here to make sure that everything gets moved safely to your new home. All our moving staff are fully trained in handling and moving your furniture and possessions safely, and in loading the truck so that nothing moves in transit. This all means that your furniture and possessions should be arriving in Hinsdale in just the condition it was when it left your current home.

A Service Tailored To Your Needs

Because Moovers Chicago has been offering our services to people moving home in the area for years, we have built up a fleet of different moving vehicles. This means that when we provide our quote we can assign the right vehicle and the right numbers of staff to the move, so you only pay for what you need. We can also offer additional services such as furniture wrapping to make your home move easier, but you only need to choose what is right for you.

Experience In Moving From All Kinds Of Properties

Whether you're moving from an apartment or from a large home in substantial grounds, we have facilitated every kind of home move you can think of. Moovers Chicago really is the right choice of movers for your home move to Hinsdale.
Nearest Neighborhoods