Seven Things You Can Do To Make Your Move To Hoffman Estates Easier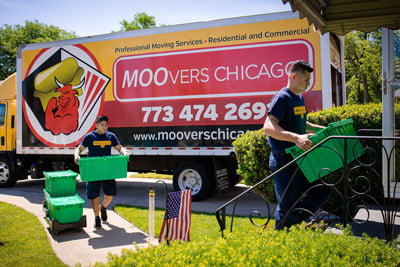 Once you have secured your new home in Hoffman Estates, there will be plenty of preparation required to make sure that everything goes smoothly during the move. Here at Moovers Chicago we can help to share that burden with you, and we aim to offer a high quality and professional service that will at least reduce the burden for you on moving day. Here are seven things you can do to ensure that moving to your new home goes as smoothly as possible:
Hire Moovers Chicago Naturally, having someone that can take the strain on moving day is a big help. We are a family run company that has been helping people move in the Chicago area for many years. Check out our reviews online, and see what our customers say about the service we provide.
Start Packing Early You don't want to be rushing around on the evening before the move getting everything packed. Look at items that are decorative or don't need to be used to regularly, and get those packed away early, so you have less to do on moving day.
Plan To Keep Children And Pets Away From The Property On Moving Day Ultimately, you don't want anything to be getting in the way of your moving team, and you don't want to put your children and pets in harm's way either. This might be a good time to call in a favor from friends and family!
Consider Whether You Need A Furniture Wrapping Service Or Packaging Materials If you are short on time and aren't able to pack your furniture yourself, we can arrange for a member of staff to do this for you. We can also offer TV boxes and wardrobe boxes to help keep the TV and your clothing safe and clean during your home move.
Get Out Early To Secure Parking Space For The Truck If you don't have a driveway either at your new Hoffman Estates home or your current property, we do ask that you ensure there is space available for the moving truck to stop. Depending on where you live, you may need to get out and secure this space early.
Label Your Boxes And The Rooms In Your New Hoffman Estates Home When it comes to moving home, making sure the right things are in the right rooms can make it much easier when it comes to unpacking. Get your boxes labelled and our team will do the rest, so that you can spend less time moving boxes around, and more time enjoying your new home.
Keep The Essentials In One Box To Unpack First The first box that you unpack will usually be the last box that you packed, so try to get all of the essentials in one box, so that you can have a cup of coffee before you get started on the real unpacking work.