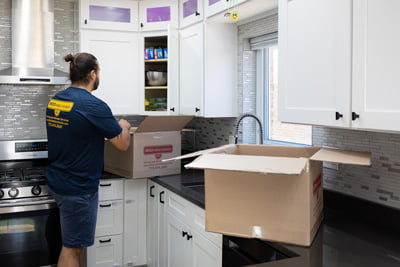 Relocating to Lake Zurich
Lake Zurich is a suburb of Chicago with a population of around 20,000 and a median income of $126K. Lake Zurich, in Lake County, is a great place for families to live in Illinois and offers residents a sparse suburban environment, amazing schools, outdoor activities, and a reasonable commute to downtown Chicago. Set yourself up for success in Lake Zurich by making informed choices before you move. The easiest is choosing Moovers Chicago as your Lake Zurich movers.
Real Estate in Lake Zurich
The median home value in Lake Zurich is $352K with around 80% of residents owning their home; median property tax is $2,200. For those who rent, the median rent is $1,700 / month (vs. the national average of $1,150).
Getting Around in Lake Zurich
Lake Zurich is heavily car dependent. With a walk-abilty score of 34 (out of 100), most errands will require a car. Lake Zurich's bike-abilty score of 40 means there is very limited infrastructure (i.e. bike lanes, etc.) for cyclists.
Lake Zurich has limited options for public transportation. The nearest Metra station (light rail with access to downtown Chicago) is in neighboring Barrington.
Things to do in Lake Zurich
Stroll through the 7.8 acres of forested open space at Kuechmann Arboretum with 25 different species of trees, including 36 trees that are over 150 years old and 54 trees that are over 100 years old, the oldest of which is about 275 years old. Kuechmann Arboretum is focused on tree preservation, invasive species management, and the importance of pollinators.
One-of-a-kind boutique restaurants offer dining options for the most sophisticated palettes. Lake Zurich is proud to be the home of two nationally acclaimed breweries, Phase 3 and Roaring Table, along with Copper Fiddle Distillery that features live music several nights a week.
During the summer months, you can stop by at Paulus Park for some outstanding eats on Wednesdays. A rotating selection of two or three food trucks are available for your culinary enjoyment.
About Moovers Chicago
Moovers Chicago is a family-owned, professional moving company based in Chicago. We offer a range of services, including residential, commercial moving and storage services. We also have packing and unpacking services to further ease the burden of moving. No matter the size of the job, our first priority is to make your move as stress-free as possible.