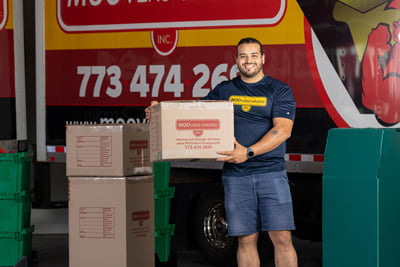 Relocating to Lisle
Lisle is a suburb of Chicago with a population of around 24,000 and a median income of $103K. Lisle, in DuPage County, is one of the best places for families to live in Illinois and offers residents a mixed urban / suburban environment, amazing schools, outdoor activities, and cultural diversity. Set yourself up for success in Lisle by making informed choices before you move. The easiest is choosing Moovers Chicago as your Lisle movers.
Real Estate in Lisle
The median home value is $369K with around 57% of residents owning their home; median property tax is $2,300. For those who rent, the median rent is $1,400 / month (compared to the national average of $1,163).
Getting Around in Lisle
Like most suburbs, Lisle is very car dependent. With a Walk score of37 (out of 100) nearly all daily errands require a car. Unfortunately with a Bike score of 40, Lisle only has minimal infrastructure (i.e. bike lanes, etc.) for cyclists.
Metra commuter trains provide fast, reliable service to Chicago within approximately 36 minutes via express service, or within 1 hour via local trains. The train station is located in Downtown Lisle and is the third busiest stop on the line out of 23 stations with an average daily ridership of 2,600. The Lisle Train Station offers shelter and elevator access on either side of the tracks and 2 pedestrian tunnels which are open 24 hours a day. The Lisle Metra station has 7 parking lots with a total of 814 space (combined permit and daily).
Things to do in Lisle
The Lisle Park District owns and/or maintains 42 sites, totaling 447 acres which offer a variety of fun for everyone including, Sea Lion Aquatic Park, River Bend Golf Club and Wheatstack, a Midwestern eatery and tap. The world renowned Morton Arboretum encompasses 1,700 acres of woodlands, wetlands, gardens, and innovative exhibits, such as the interactive Children's Garden and the Maze Garden.
The West Suburban Sports Complex is one of the country's most sophisticated youth development facilities, featuring the same high-tech training and coaching techniques used by the Chicago Bulls and the Chicago White Sox. The Village of Lisle-Benedictine Sports Complex hosts a variety of sporting and outdoor exhibition events, including the DuPage Pistol Shrimp.
Nearest Neighborhoods
About Moovers Chicago
Moovers Chicago is a family-owned, professional moving company based in Chicago. We offer a range of services, including residential, commercial moving and storage services. We also have packing and unpacking services to further ease the burden of moving. No matter the size of the job, our first priority is to make your move as stress-free as possible.