Taking The Heavy Lifting Out Of Your Move To Mount Greenwood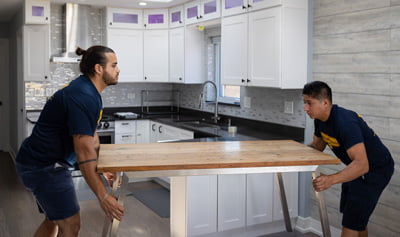 Everybody knows that changing home is a big life event, but if you've moved home before then you will be well aware about how difficult it can be and the challenges involved with it. There are several ways in which you can reduce the amount of work that will be required, and having Moovers Chicago on board to help is definitely one of the best ways to do this. If you have just signed on the dotted line for a new home in Mount Greenwood, then give us a call and we can talk you through how our movers can take care of the heavy lifting for you.
Planning Your Packing Approach
One of the ways in which you can make the process easier is to make sure you start packing early, and think about what needs to go where in your new home. Start working through the rooms in your existing home, and get everything that isn't essential or in everyday use securely packed and labelled in the weeks before the move. Ideally, you should only have a few boxes to pack on the day before the move, including the one box that will have those things you will need first in your new home.
How Moovers Chicago Take The Strain Out Of Your Move
Safe Handling Of Your Possessions

Having a professional and experienced company on board for the move will help make everything easier, and you can have confidence that all of our team are fully trained and experienced in every kind of move, both residential and commercial. This means you can be comfortable that our movers will get everything to your new Mount Greenwood home as expected.

Excellent Communication And Service

We are here to talk you through every step of the home move, and whatever the question or situation that arises, let our team know and we'll do our very best to help.

Additional Services

Life can get busy and we know that some people may not have too much time on the day before a home move. We can offer a staff member to help you dismantle flat pack furniture on the day before, and then re-assemble it in your new home, while was can also offer a protective wrapping service for your larger furniture items.

Flexibility For Your Move

We know that things don't always go as planned, so if you need to rearrange the date of your home move, then we are happy to facilitate this for free as long as you give us 3 full days' notice. We can also provide temporary storage if the departure and arrival dates don't quite match up.
What You Need To Do On Moving Day
Having Moovers Chicago in your corner, you really only need to make sure that there is parking available for our truck at each end of the move, and we also ask that you keep children and pets safe and elsewhere during the move. Once you have everything in your new place, it is over to you to start getting everything unpacked and settled in your new home.
Nearest Neighborhoods
Beverly
Morgan Park
Alsip
Evergreen Park
Blue Island