5 Reasons Why Moovers Chicago Should Be Your First Call When Moving To Mount Prospect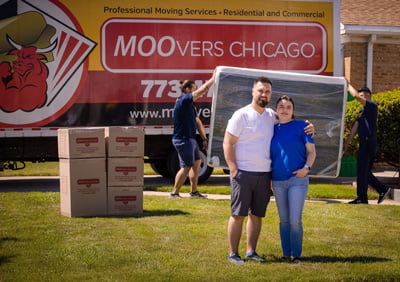 Securing a new home is always an exciting time, and whether you are buying or renting a property in Mount Prospect your thoughts will start towards moving in to your new home. However you choose to move home there are plenty of things to think about, but when it comes to moving day itself it is well worth considering how Moovers Chicago can help to make this experience a more pleasant one. Moovers Chicago is the premier movers for Mount Prospect. Here are 5 reasons why we think you should be calling us once you secure your new home.
Our Excellent Reputation For Great Service: We work hard to offer a great service to our customers, and we are proud of the reputation that we have developed over the years. We are accredited by the Better Business Bureau because of the level and quality of service we provide, and everyone in the team is focused on giving you the best home move experience. To see what some of our customers have to say about our service, have a look at the reviews on sites such as Yelp and Facebook Reviews.
A Professional And Efficient Moving Service: Our moving teams are fully trained and equipped with the right equipment to get everything moved safely for you. On the day our team will arrive with a suitable vehicle for the move to get everything from your current property to your new Mount Prospect home. You'll be amazed at how quickly and efficiently our professional staff will get your home move done.
Moving Large And Bulky Furniture Safely: One thing that many people will have experienced when moving home themselves, is that larger items like wardrobes and couches can be difficult to move, especially getting them through doorways. Because our teams handle these types of items on a regular basis, they are able to move these items more efficiently. You can be confident that our team won't be leaving scuff marks on the furniture itself, or on the paint and doorways of the properties either.
A Transparent And Clear Fee Structure: As an experienced company, we know that there is an important balance to be struck between cost and still being able to provide the best service, so while our quotes may not always be the lowest, you can have faith you know exactly what you're going to pay. We don't have any hidden extras, and any additional services that you choose are also clearly priced so that you can budget accordingly.
Additional Support Services: As well as the team and vehicle that will be moving your furniture, there are also other things that Moovers Chicago can help with, and our furniture packing service is great for saving you time on the day before moving day. We can also offer dis-assembly and assembly for larger furniture items like wardrobes, as well as providing TV boxes to keep your television safe, and wardrobe boxes to keep your clothes clean and safe during the move.