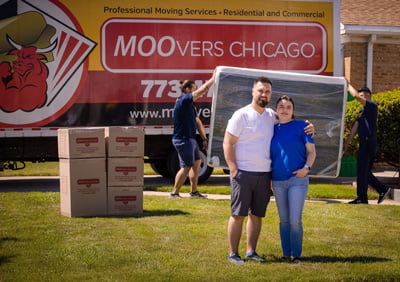 Relocating To Mount Prospect
Mount Prospect is a suburb of Chicago with a population of around 57,000 and a median income of $92K. Mount Prospect, in Cook County, is one of the best places for families to live in Illinois and offers residents a mixed suburban / urban environment, amazing schools, outdoor activities, and a decent commute to downtown Chicago. Set yourself up for success in Mount Prospect by making informed choices before you move. The easiest is choosing Moovers Chicago as your Mount Prospect movers.
Real Estate in Mount Prospect
The median home value is $336K with around 70% of residents owning their home; median property tax is $3,400. For those few who rent, the median rent is $1,200 / month (compared to the national average of $1,163).
Getting Around in Mount Prospect
Like most suburbs, Mount Prospect is largely car dependent; yet with a Walk score of 53 (out of 100) a few daily errands might done on foot. A Bike score of 59, Mount Prospect has some infrastructure (bike lanes and trails, hills, road connectivity, etc.) for cyclists.
The Metra Commuter Rail Union Pacific Northwest Line (UPNW) runs from Harvard, IL to Ogilvie Transportation Center ("Chicago OTC") in downtown Chicago, stopping at our station in downtown Mount Prospect. Riders can transfers to the CTA (Chicago Transit Authority) at Jefferson Park.
Things to do in Mount Prospect
The Mount Prospect Park District manages 450 acres and offers its residents a total of 32 parks and recreational facilities including, a 4.3 star golf course (Golf Advisor), neighborhood playgrounds, pools, fitness centers, ball diamonds, biking and walking paths.
Mount Prospect Celebration of Cultures is a yearly commemoration to honor the many diverse populations that live side by side in the village. Enjoy Cultural Booths, Ethnic Foods, Crafts and Cultural Entertainment.
Nearest Neighborhoods
About Moovers Chicago
Moovers Chicago is a family-owned, professional moving company based in Chicago. We offer a range of services, including residential, commercial moving and storage services. We also have packing and unpacking services to further ease the burden of moving. No matter the size of the job, our first priority is to make your move as stress-free as possible.