Why Use Moovers Chicago For Your Home Move To Naperville?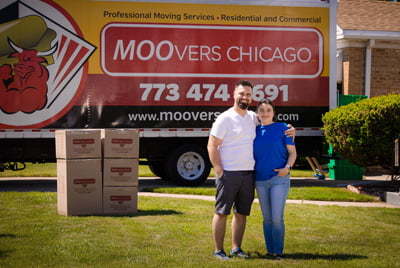 Getting the keys to your new property in Naperville can be a really exciting time, and you will usually be excited to get in to your new property, but hopefully by this point you will already have done a lot of preparation for your move, including finding movers. A few weeks beforehand, if you've contacted Moovers Chicago you will already have a moving date in place, and will be ready for moving day. Other preparations will involve getting all of your possessions packed and ready for the move, and arranging the services and utilities for your new home too.
A Moving Company With An Excellent Reputation
One of the reasons that Moovers Chicago is such as good option for your home move is that we have the experience of hundreds of other home moves across the greater Chicago area that we have completed. We are proud of the reputation we have developed for offering an excellent service, and we will treat your home move with the same respect with the aim of maintaining this reputation. We are fully accredited with the Better Business Bureau and you can see reviews from our customers on their website, and on other review sites online too.
Genuine Care For Your Furniture And Possessions
Our team of movers are passionate about giving you a positive home moving experience, and we are all dedicated to getting all of your furniture and possessions to your new place in Naperville safely. Our moving staff are extensively trained in handling and moving furniture safely before they are added to the active teams, so they will be very familiar with what they need to do. Finally, we all care about the service that we offer, and by hiring Moovers Chicago you are working with a family run company that aims to offer the best service we can.
Flexible Services To Meet Your Needs
Another reason to use Moovers Chicago is that we have a flexible suite of services that we can offer to help make the move easier. This includes a furniture dismantling and installation service if you'd prefer not to have to do this yourself, while we can also offer a furniture wrapping service to protect your furniture if you are short on time or prefer to have one of our team to do this for you. We also have free rescheduling of your home move as long as you notify us at least 72 hours before the scheduled moving date.
Fully Licensed And Regulated For Your Home Move
As a professional and respected company we always take care to make sure we are meeting and exceeding local and state regulations when it comes to moving companies. We have the necessary liability insurances to make sure that we are appropriately covered, and are fully licensed by the local government in Chicago and Illinois. By taking your home move service with Moovers Chicago, you will have the peace of mind that you will be having the right support for your move to Naperville.