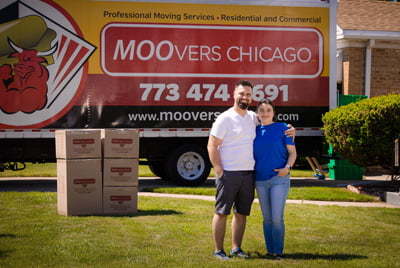 Relocating to Naperville
Naperville is a city in Illinois with a population of around 150,000 and a median income of $135K. Naperville, in DuPage County, is one of the best places for families to live in Illinois and offers residents a dense suburban feel, amazing schools, cultural diversity and a reasonable commute into The Loop. Set yourself up for success in Naperville by making informed choices before you move. The easiest is choosing Moovers Chicago as your Naperville movers.
Real Estate in Naperville
The median home value $504K with around 75% of residents owning their home; median property tax is $9,200. For those who rent, the median rent is $1,650 / month (compared to the national average rent of $1,163).
Getting Around in Naperville
With a Walk Score of 58 (out of 100), Naperville is somewhat walkable and some errands can be completed on foot. A Bike Score of 54 there is a some amount of infrastructure (bike lanes, etc.) meaning cycling is of limited viability. Naperville, in general, has minimal access to public transportation, but it has two Metra stations with both express and local service into Chicago's Loop.
Things to do in Naperville
Naperville is home to Moser Tower and Millennium Carillon, one of the world's four largest carillons with 72 bells. Pedestrian-friendly downtown Naperville has hundreds of stores, spas and dining opportunities. Besides managing 136 parks that cover 2000+ acres, the Naperville Park District provides 1,500 programs for people of ages and interests.
About Moovers Chicago
Moovers Chicago is a family-owned, professional moving company based in Chicago. We offer a range of services, including residential, commercial moving and storage services. We also have packing and unpacking services to further ease the burden of moving. No matter the size of the job, our first priority is to make your move as stress-free as possible.