The Three Stages Of Your Home Move To North Chicago With Moovers Chicago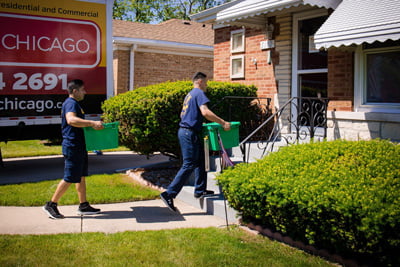 Whenever you are moving home, it is always important to make sure you get the preparation right, and if you've just secured a new place in North Chicago, then getting Moovers Chicago as your movers can be a great help. We've been helping people move to places across the greater Chicago areas for years, and whether it is moving from an apartment, condo or house, then we can certainly make sure moving day goes smoothly for you. There is often quite a bit of preparation to do, but here's an idea of what you can expect along the way.
Getting Ready For Your Home Move

When you're a few weeks away from your scheduled moving day, you should start to think about getting things packed away and ready for the move. Look at everything through your home, and if you don't use it daily or you're unlikely to need it, get it packed and boxed up ready for the move. The more you have already packed up on the eve of moving day, the less stressful this will be.
You also need to start thinking about all of the other things you're going to need in your new home in terms of services and utilities, so start calling those companies, and they can tell you if they can just switch over on the day, or if you need an engineer. If you're likely to be busy the day before moving day, you may want to think about booking some of the additional services that Moovers Chicago can help with.

Your Final Steps On The Eve Of Moving Day

Getting the last few things stowed away in a box of essentials should be one of your last tasks on the day before, so that the only things not packed are those you'll need on the morning of the move. If you do have any flat pack furniture that needs to come down for the move, then you'll need to do this today, as well as protectively packing any furniture – these are the services Moovers Chicago can help with if needed. You should also think about where you'll be caring for pets or children on moving day, so you may want to drop them off with family members the night before the move if that is your plan.

Moving Day To Your New Home In North Chicago

On moving day, the only thing you really need to arrange for us will be suitable parking, so if you don't have a driveway, you may need to get out early and reserve a space for the moving truck. Our team will then get everything loaded up quickly and safely, before getting it all moved and unloaded in your new place in North Chicago. At this point, hopefully you're ready to start cracking open the boxes, and getting everything in its place and your new life started in your new home.