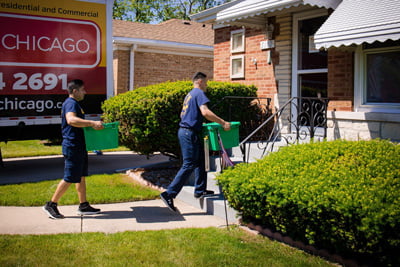 Relocating To North Chicago
North Chicago is a suburb of Chicago with a population of around 31,000 and a median income of $48K. North Chicago, in Lake County, offers residents a dense suburban environment, diverse community and an active nightlife. Set yourself up for success in North Chicago by making informed choices before you move. The easiest is choosing Moovers Chicago as your North Chicago movers.
Real Estate in North Chicago
The median home value in North Chicago is $117K with around 33% of residents owning their home; median property tax is $1,400. For those who rent, the median rent is $1,300 / month (vs. the national average of $1,150).
Getting Around in North Chicago
North Chicago is heavily car dependent. With a walk-abilty score of 36 (out of 100), most errands will require a car. North Chicago's bike-abilty score of 44 means there is very limited infrastructure (i.e. bike lanes, etc.) for cyclists.
North Chicago has a light-rail station on Metra's Union Pacific North (UP-N) line, with service to Kenosha (to the north) and Ogilvie Transportation Center (downtown Chicago). The station has both daily and permit parking available.
Things to do in North Chicago
National Museum of the American Sailor - As an official Department of the Navy Museum under the Naval History and Heritage Command, the National Museum of the American Sailor's mission is to collect, preserve, and interpret the history of the United States Navy's Enlisted Sailor for the benefit of the US. Navy and the people of the United States.
Epiphany Center for the Arts is Chicago's best venue for Art, Entertainment, and Events. Originally a church built in 1885, Epiphany is a stunning venue for music, with an ongoing series featuring the best of Chicago's talented Blues, Jazz, R &B, Classical, Vocalists, and even World Music. A collection of works by diverse artists can be found in Epiphany's eight intimate galleries.
Nearest Neighborhoods
About Moovers Chicago
Moovers Chicago is a family-owned, professional moving company based in Chicago. We offer a range of services, including residential, commercial moving and storage services. We also have packing and unpacking services to further ease the burden of moving. No matter the size of the job, our first priority is to make your move as stress-free as possible.