10 Tips To Make Your Home Move To Oak Lawn Easier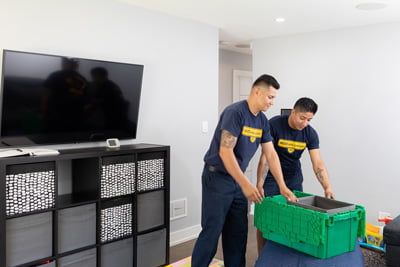 Here at Moovers Chicago we have been helping people to move home for a long time, and if you're moving to a new place in Oak Lawn then we've got your back for all your moving services. However, there are plenty of things that you'll need to do yourself that will also help to make the whole experience easier and less stressful. Here's 10 ways to make that home move a little smoother:
Start Packing As Early As Possible – Once you have secured the new home and you know when you'll be moving, start going through each room in your current home, and start packing away decorative items and those things that don't get used regularly so that you have less to pack as you approach moving day.
Use Moovers Chicago On Moving Day – This is obvious as having a moving company to do the heavy lifting for you will mean you have less to worry about, and you don't have the physical strain of moving day too.
Plan For Your First Night In Your New Home – When you are packing, make the last box or two of item the ones with your essentials and home comforts in, so that you can unpack these first before getting on with the larger unpacking job.
Check The Additional Packing Services Available From Moovers Chicago – If you think you may be short of time on the day before moving day, we can help with packing larger furniture items so they stay clean and safe during the move.
Relax Knowing Your Furniture And Possessions Are In Good Hands – On moving day our team will be communicating and letting you know what to expect throughout, so there will be time for you to relax and take breaks while our team works.
Arrange The Services In Advance Of Your Move – Start planning for utilities and services such as internet providers at the new property in advance, these can often take time to arrange if you only start once you've arrived at the property.
Secure Daycare Or Friends And Family To Look After Children And Pets On Moving Day – Keeping pets and children away on moving day will help ensure that we can work smoothly, and will also be less stress for you too.
Labelling All Of Your Items For A Smooth Move – Label all the boxes and furniture with where they need to be in your new Oak Lawn property, and we'll make sure they are in the right place.
Get The Parking Spots Early If Needed – If your old or new home doesn't have a driveway, we do ask that you make sure there is space for our truck outside, so that we can get the home move done for you.
Use The Right Packing Materials For Your Move – Make sure all your electricals and delicate items are packed suitably for the move – we can help with TV boxes or wardrobe boxes if required.