10 Things To Prepare In Advance Of Your Oak Park Home Move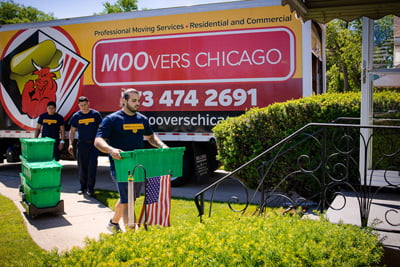 Moovers Chicago is the premier movers for Oak Park.
Moving home can be a stressful experience, especially when you've usually got a limited amount of time to complete the move and you've also got so many things to do. Here at Moovers Chicago we've helped many people move to and from properties across Chicago and Illinois. If you're moving to a new place in Oak Park, there are plenty of things that you will have on your mind, but this checklist will help you to simplify the move and make it a little bit easier.
Give Yourself Plenty Of Time When Choosing Moving Day

Once you've secured your home in Oak Park it can be tempting to choose the earliest possible completion and moving day, but make sure you have enough time to get everything ready in your current home for the move.

Hire Moovers Chicago For Your Home Move

We offer competitive professional home moving services that can really take the pressure off when it comes to moving day, as our team will collect and move your furniture and possessions over to your new home.

Start Packing As Early As You Can

Once you know when your moving day is going to be, start going through each room, and gradually packing all of the non-essential and decorative items, so that you only have the essentials and everyday items left by the time you get to the day before moving day.

Take Care With Delicate Items

Clothing can be particularly vulnerable to damage or getting dirty during a move, so pack these appropriately, and we do have wardrobe boxes to purchase if needed. We can also rent a TV box if you haven't retained the original packaging of your television.

Keep Children And Pets Away During The Move

We do ask that you have children and pets elsewhere on moving day. We want to move all of your furniture and possessions efficiently, and wouldn't want them getting injured as we move.

Secure Parking Spaces For The Moving Truck

If the two properties in the home move don't have a driveway, we do ask that you secure a parking spot for our truck outside the properties, so that we can get everything moved promptly and on time for you.

Dis-assemble Larger Furniture Items

Some larger items like wardrobes or shelving units are best moved in their constituent parts, so we ask that you dis-assemble these and pack them for moving in this way. We do offer a furniture packing and dis-assembly service if you'd like us to help with this.

Let Us Know If You Need To Reschedule

Ideally we try and be as flexible as we can, but if you do have to reschedule the move, if you can give us 72 hours notice then we are happy to reschedule for free.

Plan For Utilities And Services In Your New Home

Getting services such as utilities and internet connection can take a little while, so plan ahead and schedule these appointments in advance where possible.

Pack A Box Of Essentials For Your First Night In Your Oak Park Home

Leave your essentials for the last box to be packed, so that you can simply unpack this first, and have a few home comforts on your first night while you start to unpack the rest.