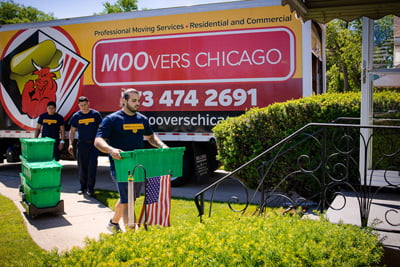 Relocating to Oak Lawn
Oak Park is a suburb of Chicago with a population of around 54,000 and a median income of $98K. Oak Park, in Cook County, is one of the best places to live in Illinois and offers residents a mixed urban / suburban environment, amazing schools, outdoor activities, cultural diversity and a good commute. Set yourself up for success in Oak Park by making informed choices before you move. The easiest is choosing Moovers Chicago as your Oak Park movers.
Real Estate in Oak Lawn
The median home value is $409K with around 60% of residents owning their home; median property tax is $2,500. For those who rent, the median rent is $1,300 / month (compared to the national average of $1,163).
Getting Around in Oak Lawn
Like many suburbs, Oak Lawn is car dependent. With a Walk score of 58, only some daily errands can be done on foot. Oak Lawn has minimal infrastructure (i.e. bike lanes, etc.) for cyclists resulting in a Bike score of 49.
The Oak Lawn Metra Station is conveniently located in the heart of downtown Oak Lawn. The Southwest Service (SWS) is a short 35 minute ride to Union Station in downtown Chicago. The Oak Lawn Metra station has 5 parking lots with 773 spots (daily and permit parking).
Things to do in Oak Lawn
The Village of Oak Lawn offers a variety of Special Events throughout the year. Some of the events featured include the annual Fourth of July Parade and Sunday Concert series.
Oak Lawn maintains an expansive park system. From small corner play lots to the 38-acre Centennial Park, there are over 300 acres of parks, recreational facilities and open land. Centennial Park packs two playgrounds, two picnic areas, four softball fields, a soccer field, a basketball court, two roller hockey rinks and four sand volleyball courts. Come summertime the big family attraction is the Centennial Family Aquatic Center at the park's east end, featuring a pool with two waterslides, a diving area and a splash pad for hours of fun on sunny days.
About Moovers Chicago
Moovers Chicago is a family-owned, professional moving company based in Chicago. We offer a range of services, including residential, commercial moving and storage services. We also have packing and unpacking services to further ease the burden of moving. No matter the size of the job, our first priority is to make your move as stress-free as possible.