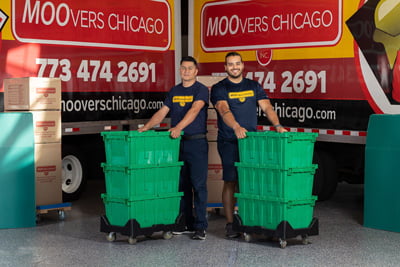 Relocating to Riverside
Riverside is a suburb of Chicago with a population of around 9,000 and a median income of $129K. Riverside, in Cook County, is one of the best places for families to live in Illinois and offers residents a sparse suburban environment, amazing schools, outdoor activities, and a reasonable commute to downtown Chicago. Set yourself up for success in Riverside by making informed choices before you move. The easiest is choosing Moovers Chicago as your Riverside movers.
Real Estate in Riverside
The median home value is $422K with around 80% of residents owning their home; median property tax is $2,500. For those few who rent, the median rent is $1,250 / month (compared to the national average of $1,163).
Getting Around in Riverside
Like many suburbs, Riverside can be car dependent. With a Walk score of 57, it is somewhat walkable; this means that some daily errands can be done on foot. Deerfield does have plenty of infrastructure for cyclists (i.e. bike lanes, etc.), resulting in a relatively high Bike score of 70.
Riverside has a Metra rail station on the BNSF line. The station has 7 parking lots for a total of 246 spaces (mix of daily and permit parking). Riverside and the Metra station are also serviced by PACE bus service (307).
Things to do in Riverside
Riverside Parks and Recreation manages approximately 10 parks in addition to a number of playgrounds. Facilities include historical museum, walking paths, ball fields, tennis / pickleball courts, and an ice rink.
Riverside sponsors a Farmer's Market on Wednesdays that runs from June to October. Additionally, Riverside has a yearly art fair called Riverside Arts Weekend, along with having a children's art project, food and drink vendors, live music and dance performances, and more.
Nearest Neighborhoods
North Riverside
La Grange Park
Lyons
About Moovers Chicago
Moovers Chicago is a family-owned, professional moving company based in Chicago. We offer a range of services, including residential, commercial moving and storage services. We also have packing and unpacking services to further ease the burden of moving. No matter the size of the job, our first priority is to make your move as stress-free as possible.