Picking A Moving Company For A Home Move To Riverside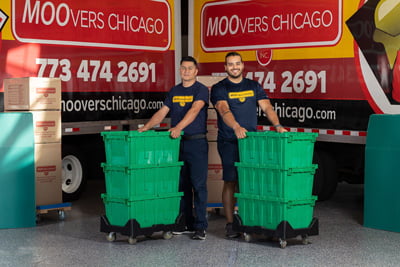 After weeks or months of home hunting and probably viewing several properties, you've finally signed on the dotted line and secured your new home. While you'll probably be excited to move to your new home in Riverside, there is plenty of preparation to do in advance of arriving there, and getting movers on board is something that will really help you to get the move done efficiently. There are several factors to look for when hiring a moving company, and naturally we believe that Moovers Chicago is ideally placed to meet these requirements. Moovers Chicago is the premier movers for Riverside.
Look For A Strong Reputation And Reviews
Having a company on board that can show a track record of many successful home moves will give you peace of mind that you are dealing with a company that will deliver on its promises. At Moovers Chicago we work hard to make sure that everything is clear beforehand and that you are comfortable with how moving day will go, as well as being happy with what you need to do. We are fully accredited with the Better Business Bureau, and you can see what our customers say on sites like Yelp, Google Reviews and Facebook Reviews.
Finding A Family Run Local Company
We believe that moving home with a company that is based in Chicago and is an active part of the Chicago community will help to make your home move better, and support the local economy too. As we have helped so many people to move over the years we have experienced staff who have local knowledge from across the city, and we're happy to deal with any home move large or small. As a local family run company we take pride in the service we offer to the people of the city, and also participate and encourage staff to participate in community activities and charitable support too.
Professionally Trained Moving Staff For A Great Experience
Our team of moving staff is fully trained on how to handle different items before they are allowed to move our customers' furniture, so you can be confident they can move your possessions safely. Even bulky and large items can be handled with care and ease, to make your home move efficient and as pain free as possible. We do ask that you keep pets and children away from the properties while our staff are working, to make sure they can work and move your furniture without any accidents happening.
Find A Company That Offers The Full Home Moving Service
Moving all your boxes and furniture to your new home in Riverside is one thing, but Moovers Chicago has a range of additional services available too. If you need someone to dis-assemble the larger furniture items like wardrobes and shelves, and then install them in your new home, we can arrange that for you. Additionally, ask about packing / unpacking and storage services. We also offer wardrobe boxes to keep delicate clothes clean and safe during the move. Give us a call today, and see how we can take the strain of your next home move.