Ten Reasons Why You Should Hire Moovers Chicago For A Home Move To Rolling Meadows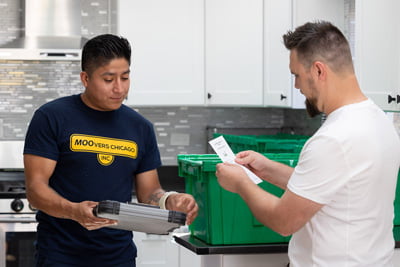 Once you have secured your new home in Rolling Meadows, whether you are buying or renting, your thoughts will start to turn towards moving day itself. There are many things that you can do to help your move to go smoothly, but naturally we feel that hiring Moovers Chicago to provide your home moving team is one of the best decisions that you can make. Moovers Chicago is the premier movers for Rolling Meadows. Here are ten reasons why we think so:
Excellent Customer Service – Our team are highly trained and are passionate about giving you a great experience, from the office team through to those who are actually moving the items for you.
Professionally Trained Moving Staff – We have a team of people who are very experienced and are equipped with the right tools to be able to move all your possessions quickly and efficiently.
Assembly of Furniture Reduce The Strain On You And Your Family – Having to call in favors with friends and family can cause strain, both from the physical work of moving heavy furniture, as well as the burden that you put on those you ask to help, so hiring us means you don't have to ask for any help.
Free Rescheduling If Your Situation Changes – Moovers Chicago is passionate about offering good service, and if your plans change then we try and be as flexible as possible with this. If you need to reschedule there is no fee as long as you give at least 72 hours notice.
Family Run Local Company – We believe in teamwork, and our family run company works together to give you a great service. We are passionate about giving you the level of service you expect and try to delight with every home move we complete.
Fully licensed and insured – We are licensed and accredited in line with local government rules, and we are always keen to keep up with the latest regulations. We also ensure that we have the right liability insurance in place, should anything go wrong.
Great Reputation – We have worked hard to develop our reputation across Chicago. You can see the reviews for our company on sites such as Yelp and Google Reviews, where many of our customers have left kind comments.
Additional Services – Moovers Chicago is happy to help with a home move, but there are other services such as furniture assembly, furniture packing and provision of wardrobe boxes that can all help to make your move to Rolling Meadows even easier.
Transparent fee structure – When you hire Moovers Chicago we always make our fees clear and transparent. We know how frustrating a hidden charge can be when you encounter them, and they are not a part of our business model.
Accredited by the Better Business Bureau – The Better Business Bureau is one of the organizations where we have had to work hard to achieve accreditation. We are proud of this accreditation, and this is also another website where you can find some of the great reviews that our customers have given us.