7 Ways That Moovers Chicago Can Help With Your Schiller Park Home Move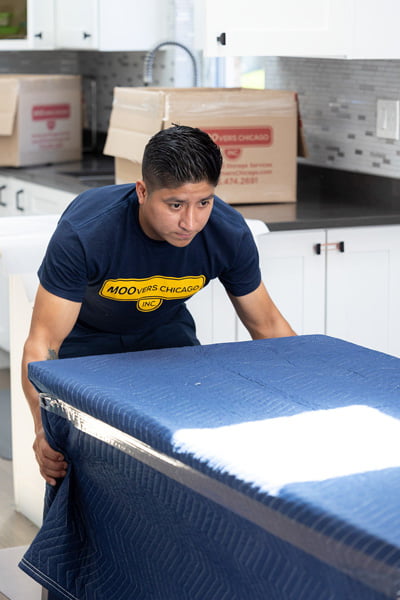 Whether you have lived in Schiller Park all your life or it is your first time moving to the area, getting a new home is both one of your biggest life events but can also be one of the most stressful too. Having an experienced and professional local company on board to help with the move can take away much of the pressure of moving day itself, and here at Moovers Chicago we want to be your support service during this time. There's many different ways in which we can help your move go smoothly, so here are a few ways in which we make the move easier. Moovers Chicago is the premier movers for Schiller Park.
A Professional And Caring Home Move Service

When you hire Moovers Chicago we care about providing a great service, and take pride in making sure you are happy and comfortable with how everything goes. We're confident that our professional team will set your mind at ease and make the move a much easier one for you.

Freeing Up More Time To Focus On Other Areas Of Your Home Move

By having Moovers Chicago on board we will handle all of the arrangements for moving day, so that gives you more time to focus on packing everything away in advance of the move, and planning for the services, utilities and other aspects that you will need to arrange in your new home.

Furniture Packing And Assembly Services

Life can be very busy, and finding time to spend packing your big furniture items on the day before the move can be challenging. We can arrange for someone to visit the day before to pack your furniture, and also to dis-assemble items like wardrobes for transport, and then install them at the destination.

Take The Stress Of Moving Day Away

If you've ever tried to move home by hiring a van and getting a few friends together, you'll know how stressful things can be, and especially if people aren't used to the lifting work. Having Moovers Chicago on board means the stress of this is simply taken away.

Free Rescheduling If Your Plans Change

Plans can change for all kinds of reasons, and we know that sometimes there are hiccups when it comes to moving home. If you need to reschedule, we are happy to arrange this without charge as long as you give us 72 hours notice.

Peace Of Mind From A Reputable Company

Our reputation as a company is very important to us, so we always try to make things go right every time, and if they don't we aim to address this promptly and properly. Have a look at the wealth of reviews we have on sites such as the Better Business Bureau and Yelp to give you even greater peace of mind.

Additional Packaging Materials

If you would like additional materials to keep delicate items safe, we have television boxes which you can rent for the home move, while we also have wardrobe boxes for those delicate clothes and fabrics.