7 Reasons To Hire Moovers Chicago For A Home Move To Tinley Park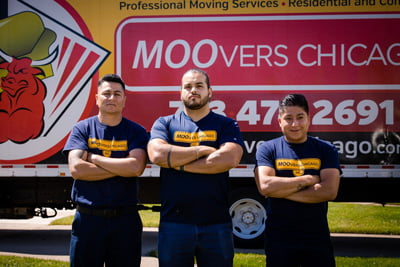 Moving home is one of those big life events that can seem to overshadow everything for a short period, as you start by looking and finding the new place, and then all the work and preparation for moving there. If you've secured a new home in Tinley Park, then you really should consider using Moovers Chicago as your movers, as it will make the whole process so much easier. There are many ways in which we help carry the burden of this big life event, and allow you to focus on all of the other preparations that need to be made too. Here are some reasons why you should move with Moovers Chicago:
A Company With A Sterling Reputation

We take pride in the reputation we have developed over the years. We've helped hundreds of people to complete home moves in Tinley Park and across Chicago, and many of our customers have left us great reviews on websites such as the Better Business Bureau and Yelp.

Professional Care For Your Furniture And Possessions

Our team are passionate about making sure your move is done safely and appropriately, so when you move home with Moovers Chicago, we care about getting everything to your new home in one piece. We also make sure we have full liability insurance and are accredited by local government as well.

Experienced And Well Trained Moving Team

We make sure that all of our staff have had all of the right training and experience so they can move even large and bulky items safely, efficiently and without damage. Whether it is a tight doorway in an apartment building or any other hurdle, our team can handle it.

Great Customer Service

We want you to be comfortable and happy with the service you receive, and from your first enquiry to the door finally closing after your home move, we are happy to answer any questions that you may have.

Additional Support Services Available

Along with moving day itself, we can also help in other ways. If work or family life leaves you short on time, we can pack your larger furniture items for you on the day before the home move. We can also offer a dis-assembly and installation service for larger items like wardrobes.

Flexibility To Meet Changing Circumstances

We know that things can change as you approach moving day, so we will try and help where possible. While we aren't a storage facility, we can arrange short term storage if needed, and if you need to reschedule moving day, we are happy to do this for free as long as you provide 72 hours notice.

Peace Of Mind From Using A Local Family Run Company

Moovers Chicago has served the people and businesses of the city for many years, and we hope to do so for many years to come, and we have come to be a part of the communities we serve. We care about giving you the best service we can, and we hope this gives you peace of mind throughout the process.