10 Ways To Improve Your Home Move To Waukegan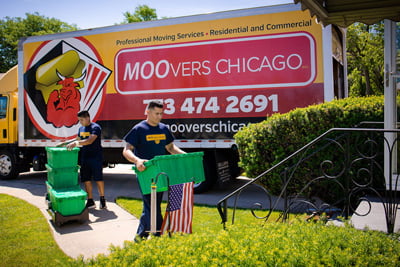 Moovers Chicago is the premier movers for Waukegan.
Moving home is a stressful time for even the most of organized of people, and it is a natural feeling when you think about all of the things that you will have to do and arrange in the build up to moving day. All of this on top of your normal work and family commitments, and it is easy for your dream move to Waukegan to quickly become a nightmare, but it doesn't have to be this way by hiring the right movers. There are plenty of ways to make the experience a little easier, and here are ten suggestions from Moovers Chicago.
Hire Moovers Chicago

Naturally, as your local reputable moving company we think you should use our services for your home move, as we can take the strain of moving day for you, so you can get on with everything else.

Contact Utility And Services Companies Ahead Of The Move

Making sure you get all of the utilities and services in your new Waukegan home ready to go when you arrive will make it much easier to get settled in immediately.

Make Sure You Have The Right Packaging For Your Possessions

When preparing for your home move, make sure you have the right packaging to keep everything safe and clean during the move. Moovers Chicago can provide wardrobe boxes to help look after your delicate clothing during the move.

Start Packing Early

This definitely isn't something you want to leave to the last minute, as it can be very stressful. Start going through each room and boxing all the non-essentials well in advance of the move.

Consider Whether You Need The Additional Packaging Services Of Moovers Chicago

As well as moving day services, we can also arrange for someone to visit your home and give all your furniture a protective wrapping, or even pack your belongings, if your commitments mean you don't have time yourself.

Arrange For Friends Or Family To Look After Children And Pets

Moving day will see a lot of furniture being moved, and it really isn't safe for children and pets to be around, so get a little help to look after them on moving day.

Planning For The Arrival In Waukegan

If you get access to the new property before moving day, you may want to have a few home comforts there ready, and maybe a few groceries as well.

Know What You'll Want Before You Start To Unpack Properly

When finishing your preparations for the home move, think about what you'll want on arrival, whether it is to freshen up or make a drink or snack. Pack these in one box that you can open up first.

Ensure Space For The Truck To Park On Moving Day

To ensure the move goes smoothly, make sure you are up early to secure space for the truck, if either property doesn't have private parking available.

Plan For Your First Night In Your New Home

You'll probably be pretty tired, so think about maybe getting take-out for dinner, or unwrapping the couch early so you can relax and enjoy your new home.