Improving Your Woodridge Home Move By Hiring Moovers Chicago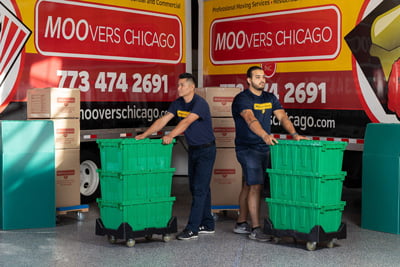 Moving home can be a very stressful and difficult time for many people and families, as there is so much to do and prepare, with only a limited time in which to get everything done. If you're starting to prepare for a home move to Woodridge, then one of the best things you can do is to hire Moovers Chicago as your movers so we can deal with all of the work on moving day. This will then allow you to focus more of your attention and time on getting everything else done that will need to be completed in advance of the move. Moovers Chicago is the premier movers for Woodridge.
A Family Run Company With A Great Reputation
Moovers Chicago is a great company to work with, and we ensure that all of our staff are focused on giving you a great service from the very first call you make to us. We really care about giving an excellent home move service, and take pride in the level of care that we take of our customers from start to finish. This dedication has been recognized by being accredited with the Better Business Bureau, and for additional peace of mind you can see all of the kind reviews that our customers have given us on their website and on other sites like Google Reviews and Yelp too.
Professional Care For Your Possessions
By having us with you for moving day, you can have faith that we will be able to handle and move all of your furniture professionally. Each member of our moving team will have the right experience and training to handle all of your items correctly, even those heavy and bulky items that can often be a nightmare if you are arranging your home move yourself. We also have all of the right equipment such as harnesses and protective equipment to make sure that everything goes smoothly during your home move.
Services To Make A Home Move Even Easier
We know that many people will have family and work commitments and may not be able to take time off to get all of the preparations done in advance of the home move. For this reason we have a furniture wrapping and packing services available, where one of our team will attend before you move, and will apply a protective wrapping over your furniture and / or pack your belongings so that it will be safe during the move. We can also arrange for someone to dismantle any flat pack items like shelves and wardrobes, so they can be safely transported too.
Transparent Pricing And Flexible Service
We are passionate about providing a great service for a fair price, and when you get a quote for a home move from us, then you know exactly what you'll be paying for this. All of our additional services will also be clearly priced, so you can have faith that we will always be transparent and honest with you. We can also be flexible as well, and offer free rescheduling of your moving day if circumstances change, as long as you can provide 72 hours notice of this.