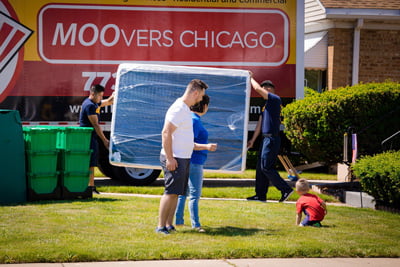 Relocating To Albany Park
Albany Park is a neighborhood in Chicago with a population of around 48,000 and a median income of $74K. Albany Park, in Cook County, is a good place to live in Chicago and offers a mixed suburban / urban neighborhood with great nightlife, amazing cultural diversity and a minimal commute. Set yourself up for success in Albany Park by making informed choices before you move. The easiest is choosing Moovers Chicago as your Albany Park movers.
Real Estate in Albany Park
The median home value is $345K with around 58% of residents owning their home; median property tax is $3,100. For those who rent, the median rent is $1,200 / month (compared to the national average of $1,163).
Getting Around in Albany Park
A car is definitely not a requirement for living in Albany Park. With a Walk Score of 91, there is no requirement for a car for errands. A Bike score of 71 means it is very bike-able, with plenty of infrastructure (i.e. bike lines, etc.). Additionally Albany Park is part of the world-class Chicago Transit Authority (CTA) with both bus and rapid-transit rail options.
Things to do in Albany Park
Then head to Albany Park, one of the most diverse spots in the United States, and experience why it's called "The Gateway to the World". The neighborhood's culinary scene is the quintessential melting pot, with a dynamic array of restaurants representing Mexican, South American, Filipino, Korean, Indian, Cambodian, Somali, Romanian, and Middle Eastern cultures.
A few standouts include Chicago Kalbi for Korean-Japanese barbecue, El Fogón de Elena Restaurante for traditional Colombian dishes, Cilantro Taco House for Mexican street food — and that's all just on one street.
Stroll along the neighborhood's scenic waterfront at River Park and Ronan Park. River Park is a 30-acre green space home to a wildlife habitat, fishing spots, a canoe launch, and an interactive water playground. Ronan Park contains a river path, perfect for bird watching, and several works of public art that celebrate the community's multicultural heritage.
Nearest Neighborhoods
About Moovers Chicago
Moovers Chicago is a family-owned, professional moving company based in Chicago. We offer a range of services, including residential, commercial moving and storage services. We also have packing and unpacking services to further ease the burden of moving. No matter the size of the job, our first priority is to make your move as stress-free as possible.