5 Reasons Why Moovers Chicago Should Be Your Company For A Brookfield Home Move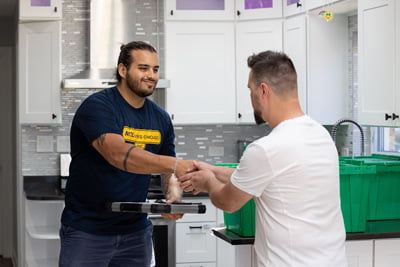 Finding your new home is no easy task, and whether you're moving for work or to find a more suitable place to live, it can be a relief to get that new property over the line, so that you can start planning for your move. Naturally you will be pretty excited, but there is also plenty of work to do before you do finally get to stretch out and enjoy the atmosphere in your new Brookfield home. If you're at this stage, then it is a great time to give us a call and see how Moovers Chicago can carry the bulk of the weight in your home move. You have your choice of movers in Brookfield. Here are some reasons to choose us:
A Friendly Team With Local Knowledge We've been helping people across Chicago to move for years, including people moving to and from Brookfield, so we'll have a good idea of what needs to be done. Our team is happy to help and answer any questions you may have before and during the move, and we pride ourselves on customer service and customer satisfaction. Whatever the problem you encounter, we will try to help to the best of our ability.
Experience With Every Type Of Home Move Having been in the business for some time, there is no type of home move that we haven't dealt with, and we can provide moving teams of different sizes that will be suitable for the job. We also have a range of vehicle sizes available, so when we quote for your work, you won't be paying for a vehicle that is too big and the team will be suitable for the size of work required. Whether it is an apartment, condo, townhouse or traditional house, we can help.
Fully Licensed and Insured To Work Throughout Illinois Having faith in our service is very important for you to feel comfortable that you have people who will care for your possessions during the move. We are fully licensed and insured for all of our moving work, and we are also accredited by the Better Business Bureau.
Genuine Care And Professional Handling For Your Furniture Our teams have a good training course before they are allowed to handle our customers' furniture and possessions, and we ensure that they have the knowledge of how to do this safely without any damage to the furniture or the properties. They are equipped with the right equipment such as harnesses and trolleys, and will take good care of everything during the move.
A Strong Reputation For Great Service Over the years Moovers Chicago has developed a good reputation for the service we provide, and we are proud of this and want to maintain it as the movers to your new property in Brookfield. You can see the wealth of positive reviews we have received on the Better Business Bureau website, and on other online review sites such as Yelp.