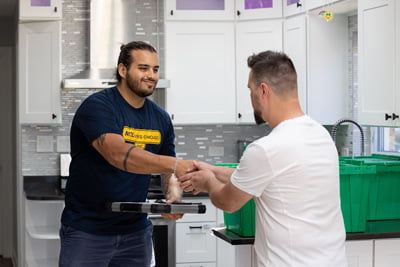 Relocating to Brookfield
Brookfield is a suburb of Chicago with a population of around 20,000 and a median income of $90K. Brookfield, in Cook County, is one of the best places for families to live in Illinois and offers residents a sparse suburban environment, amazing schools, outdoor activities, and a reasonable commute. Set yourself up for success in Brookfield by making informed choices before you move. The easiest is choosing Moovers Chicago as your Brookfield movers.
Real Estate in Brookfield
The median home value is $276K with around 80% of residents owning their home; median property tax is $2,000. For those few who rent, the median rent is $1,100 / month (compared to the national average of $1,163).
Getting Around in Brookfield
While most suburbs are car dependent, Brookfield, with a Walk Score of 61 (out of 100), so you can expect to do some errands on foot. A Bike Score of 56 means Winnetka is somewhat bike-able and has some infrastructure (i.e. bike lanes, etc.) for cyclists.
Brookfield has a single Metra station on the BNSF line, which has connections to two Pace route (302, 331). The station only very limited parking and is intended for pick-up or drop-off.
Things to do in Brookfield
Most notably, Brookfield is known for the Brookfield Zoo. It opened in 1934 and now encompasses 216 acres and houses around 450 species. The zoo feature stunning buildings in the Italian Renaissance and Art Deco style designed by Edwin H. Clark, a prominent Chicagoland architect. Additionally, the Brookfield Zoo gained international recognition for using moats and ditches instead of cages to separate animals from visitors and from other animals.
For the outdoors type, the Salt Creek Trail System's paved and unpaved trails run along the Des Plaines River, Salt Creek and Brookfield Zoo, offering visitors views of a glacial valley, gravelly moraine and Salt Creek's unique pool and riffle environment.
Brookfield is home to a surprisingly eclectic array of nightlife options, from the traditional bar fare of Sebastian's Ale and Whiskey House to the fun and whimsical martini offerings at Blue Water Lounge. Visitors and residents alike should be sure to check out as many of the fun, welcoming establishments that dot the Brookfield landscape.
About Moovers Chicago
Moovers Chicago is a family-owned, professional moving company based in Chicago. We offer a range of services, including residential, commercial moving and storage services. We also have packing and unpacking services to further ease the burden of moving. No matter the size of the job, our first priority is to make your move as stress-free as possible.