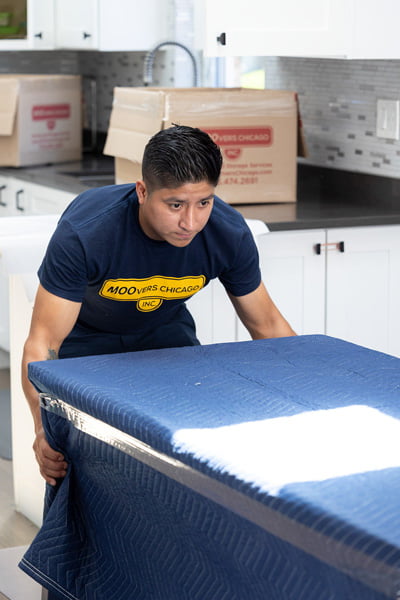 Relocating to Burr Ridge
Burr Ridge is a suburb of Chicago with a population of around 11,000 and a median income of $148K. Burr Ridge, in Cook County, is one of the best places for families to live in Illinois and offers residents a dense suburban environment, amazing schools, outdoor activities, and good nightlife / dining. Set yourself up for success in Burr Ridge by making informed choices before you move. The easiest is choosing Moovers Chicago as your Burr Ridge movers.
Real Estate in Burr Ridge
The median home value is $673K with around 95% of residents owning their home; median property tax is $4,000. For those few who rent, the median rent is $2,400 / month (compared to the national average of $1,163).
Getting Around in Burr Ridge
Like most suburbs, Burr Ridge is car dependent; yet with a Walk score of 41 (out of 100) most daily errands might require a car. Unfortunately with a Bike score of 47, Burr Ridge only has minimal infrastructure (bike lanes and trails, hills, road connectivity, etc.) for cyclists.
Burr Ridge does not have a rail station, but it is served by several PACE Bus routes. Specifically the 768, 775 and 855 PACE routes service the Burr Ridge Park-n-Ride that provide direct service to Chicago or transfers to Metra train stations.
Things to do in Burr Ridge
The Burr Ridge Park District encompasses approximately 5.15 square miles, and serves a resident population. The present park system includes twelve park sites totaling just over 79 acres. Throughout the system, a wide variety of recreational facilities and amenities are provided. The District's community park, Harvester Park, is a 37 acre site featuring 17 acres of wetlands/prairie buffer and the 10,000 square foot Burr Ridge Community Center. The Woods Pool park site features a 90,000 gallon outdoor pool. Seven different playgrounds, featuring modern equipment and diverse creative play opportunities, are located throughout the park system.
You can find a range of restaurants in Burr Ridge including Cooper's Hawk, Wok 'N Fire, Stix & Stones, Topaz Cafe and Hampton Social. Cooper's Hawk specializes in modern casual dining with handcrafted wine. Wok 'N Fire is known for their pan Asian cuisine from Malaysia, Korea, Thailand and Japan. Stix & Stones is a fast casual restaurant that features Neapolitan Wood fired pizza, sandwiches, gourmet salads, and craft beer. Topaz Café embodies a friendly urban-chic ambiance and offers a unique contemporary American menu featuring steaks, chops and seafood. Hampton Social is known for their lively dining experiences featuring exceptional coastal-inspired food, cocktails and live music in a beautifully designed atmosphere.
Nearest Neighborhoods
About Moovers Chicago
Moovers Chicago is a family-owned, professional moving company based in Chicago. We offer a range of services, including residential, commercial moving and storage services. We also have packing and unpacking services to further ease the burden of moving. No matter the size of the job, our first priority is to make your move as stress-free as possible.