Seven Advantages Of Using Moovers Chicago For A Home Move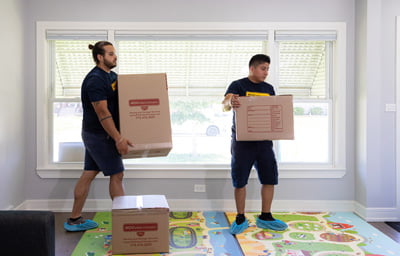 Getting a new home can be a really exciting time, and your imagination about what you want to do with your new home can really be on your mind all the time. If you are in the process of looking for a new home in Countryside, or you've already signed on the dotted line, then its time to start thinking about the next steps on making it a reality, including the movers. Moovers Chicago is your local professional home moving service, and we can take a lot of the stress and work out of moving day, and offer some additional services that will help with the move too. Moovers Chicago is the premier movers for Countryside.
Give Yourself More Time To Deal With The Rest Of Your Home Move

Knowing that moving day will be handled by our professional moving staff will mean less arranging of transport and asking friends for help. You can focus on the packing in the week or two before the move, and then unpacking and furnishing your new home afterwards.

Professional Care And Handling Of Your Goods

Our teams are fully trained professionals who can handle moving large or bulky items with ease. You won't find any scuffed doorways or dropped furniture with our team, just a quick and efficient move from one property to the other.

A Better Moving Experience To Your New Countryside Home

When you are moving home, there are so many things that can go wrong, and trying to arrange moving day yourself with the truck and the people can be so stressful, so using Moovers Chicago will really help you to enjoy the home move experience a little more.

A Reputable Company For Your Peace Of Mind

We are very proud of the reputation that we have developed for home moving excellence, and have worked hard to become accredited by the Better Business Bureau. You will also see some of the kind and positive reviews our customers have left us there, and also on other sites such as Google Reviews.

Clear And Transparent Fees

When we prepare a quote for your home move, we want to give you a fair price, and unlike some other companies there are no hidden extras. Any additional services are clearly priced if you want to use them, so you won't have any nasty surprises when it comes to paying the bill.

Additional Services For A Better Experience

Moovers Chicago can offer a range of services to help you in moving home, and this includes dis-assembling and installation of furniture in your new home, as well as furniture packing before the move. To help protect delicate items, we can also offer wardrobe boxes to look after clothes and TV boxes for rent if you haven't kept the original packaging.

Free Rescheduling Of Your Countryside Home Move

We know that circumstances can change, so if you need to reschedule the home move, then we can move to another date free of charge, as long as you notify us at least 72 hours beforehand.