Why Hire A Professional Moving Company For Your Move To Des Plaines?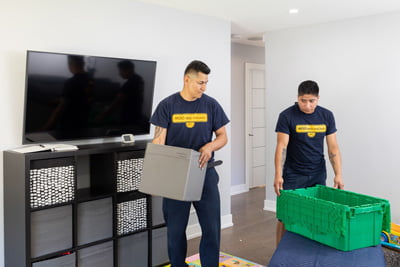 Dealing with a move to your new home in Des Plaines is something that can be handled in many different ways, and for those who don't have bulky furniture or many possessions to move, it can be easy to do yourself. However, if like most people you have built up your worldly possessions over the years, and have larger and heavier items to move such as couches and wardrobes, this is when it can get more challenging. Moovers Chicago is the ideal solution to help you complete this move, as we have years of experience and have an excellent reputation for helping others to move home in the Chicago area. Moovers Chicago is the premier movers for Des Plaines.
Reduce The Physical Work For You
One of the main reasons that people will want to hire a company to carry out the moving work is to reduce the physical burden. Wardrobes, couches and even the numerous boxes of smaller items can get heavy very quickly, and many people who do choose to move themselves will be exhausted at the end of the day, and will not be able to enjoy unpacking and placing their things in the new home. Our staff at Moovers Chicago have all of the equipment that will help to reduce the strain, as well as the experience to move larger items quickly and efficiently.
Professional Care And Handling Of Your Furniture
Another of the reasons that hiring a professional company to complete your home move is that our experience in helping people to move home helps us to look after your furniture. Many people who move themselves find their items being scuffed, scratched or damaged in another way, which often happens because most people are simply not experts at moving furniture. Our highly trained team know exactly how to handle furniture to avoid this kind of damage.
Give Yourself More Time To Unpack In Your New Place
Settling in to your new home in Des Plaines is something that should be quite enjoyable, and when you move home with Moovers Chicago all of your furniture and items will be moved efficiently to your new home by our movers. This means that you won't be exhausted at the end of a long day of heavy lifting when you are starting to unpack, which gives you that the extra time that you will have to settle in to your new home. By letting us take the heavy lifting, your memories of your first day in your home in Des Plaines should be far more pleasant.
Excellent Customer Service From A Local Family-Run Company
Moovers Chicago is a company that has been helping people and companies to move to a new property for years, and we are proud that all of our team are focused on delivering a great experience for our customers. We try our best to make sure you are informed throughout the process, and are available for your questions and can offer other services to help as well. Have a look at the reviews that some of our wonderful customers have left for us on sites such as Yelp and the Better Business Bureau website too!