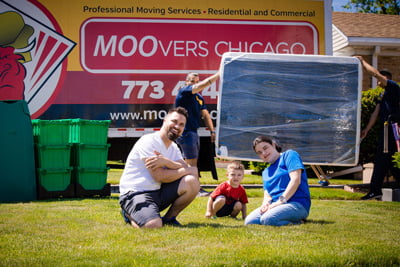 Relocating to La Grange
La Grange is a suburb of Chicago with a population of around 16,000 and a median income of $124K. La Grange, in Cook County, is one of the best places for families to live in Illinois and offers residents a dense suburban environment, amazing schools, outdoor activities, and a reasonable commute. Set yourself up for success in La Grange by making informed choices before you move. The easiest is choosing Moovers Chicago as your La Grange movers.
Real Estate in La Grange
The median home value is $515K with around 82% of residents owning their home; median property tax is $2,700. For those who rent, the median rent is $1,400 / month (compared to the national average of $1,163).
Getting Around in La Grange
Unlike many suburbs, La Grange is relatively walk-able. With a score of 71 (out of 100) meaning that many daily errands can be done on foot. La Grange has a decent bike-ability score of 57, which indicates the presence of some infrastructure for cyclists (bike lanes and trails, hills, road connectivity, etc.).
Nearly 5,000 passengers a day take advantage of the Metra commuter rail transportation accessible at La Grange's two stations (La Grange Road Train station and the Stone Avenue Station). The stations provide a total of 24 parking lots (combined) with 607 spaces (both permit and daily).
Things to do in La Grange
There is always something happening in La Grange. In coordination with the La Grange Business Association, the Village supports a series of signature community events including the La Grange Craft Fair, Hometown Holidays, West End Arts Festival, and Farmers Market. Pet Parade Charities coordinates the long-standing La Grange Pet Parade.
The Vial House, built in 1874 by Samuel Vial, is located at the northwest corner of La Grange Road and 47th Street. It was purchased by the La Grange Area Historical Society in 1984 for use as a community museum and research center. The Vial Family was among the earliest settlers in the La Grange area, obtaining a land grant from President Martin Van Buren in 1834.
The Park District of La Grange serves a three square mile area almost contiguous with the boundaries of the beautiful west suburban Village of La Grange. The park district maintains 78.5 acres of parkland at 11 locations, and offers over 1500 recreation programs annually for its residents.
Nearest Neighborhoods
Hodgkins
Westchester
La Grange Park
About Moovers Chicago
Moovers Chicago is a family-owned, professional moving company based in Chicago. We offer a range of services, including residential, commercial moving and storage services. We also have packing and unpacking services to further ease the burden of moving. No matter the size of the job, our first priority is to make your move as stress-free as possible.