How To Get The Smoothest Home Move To A La Grange Property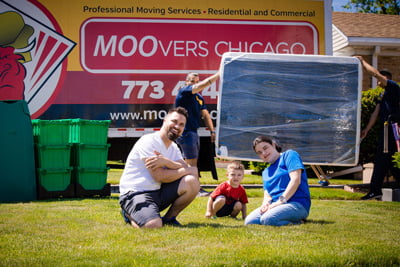 Moving home can often be a stressful time for families and people, as they plan to get everything over to the new home, and deal with all of the other tasks such as arranging utilities and services that come with a home move. A new property in La Grange can be an exciting prospect, but there is plenty of work to do to get there, so thinking of ways to make this easier is definitely worth considering. One way to smooth out a few of the hiccups on moving day is to get Moovers Chicago on board for the home move, so you can focus on all of the other tasks on your plate. Moovers Chicago is the premier movers for La Grange.
Why Moovers Chicago Makes Sense For The Home Move
Moovers Chicago is a long established family run company that has been helping people and businesses to move homes and premises all over the Chicago area. We have built up a reputation for great customer service, professional and efficient moving services and a transparency in our fees that means you know what to expect on your final bill. We are accredited by the Better Business Bureau and you can see reviews from some of our satisfied customers there, and on other online review sites like Yelp and Google Reviews.
All of our staff are fully trained and equipped to handle everything in your home move smoothly, and we will send the right team for the job as we have a range of vehicles of different sizes available. Because our staff are experienced at this kind of work, they will move everything with ease, even the larger bulky items like your couch. We are also fully licensed to operate throughout Illinois, and have the right liability insurance as specified by local government in Chicago.
What To Expect And What You Need To Prepare
When it comes to preparation, we recommend that you start packing early, so that with a few days left before the move it is only really the essentials and the large furniture that hasn't been packed, and that everything else is boxed. Ideally, it is best to label which boxes will be going into which room in your new place in La Grange. If either the property you're moving from or the new property doesn't have a driveway, we do ask that you secure a parking space for our truck on moving day, so that our team can do their work quickly and efficiently.
In terms of the additional services that Moovers Chicago can help with, we do offer a furniture packing service where one of our team will visit the day before the move to pack larger items of furniture in protective wrapping. Once the move has been completed, you will find all of the furniture and boxes in the right place, and if using our furniture dis-assembly and assembly service, our team member will then be there to assemble the furniture in the right room. At this point, it then comes back to you to start unpacking and leaving your imprint on your new La Grange home.