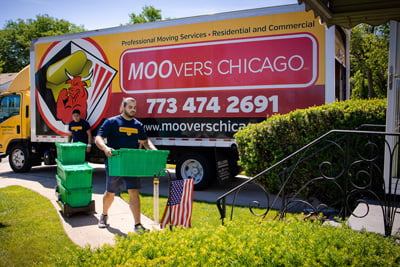 Relocating to Lake Bluff
Lake Bluff is a suburb of Chicago with a population of around 6,000 and a median income of $174K. Lake Bluff, in Lake County, is one of the best places for families to live in Illinois and offers residents a rural environment, amazing schools, outdoor activities, and a reasonable commute. Set yourself up for success in Lake Bluff by making informed choices before you move. The easiest is choosing Moovers Chicago as your Lake Bluff movers.
Real Estate in Lake Bluff
The median home value is $661K with around 91% of residents owning their home; median property tax is $3,600. For those few who rent, the median rent is $2,700 / month (compared to the national average of $1,163).
Getting Around in Lake Bluff
Like many suburbs, Lake Bluff is car dependent. With a Walk Scores between 58 (out of 100), only a limited number of errands can be performed on foot. A Bike Score of 74 means Lake Bluff is very bike-able and has plenty of infrastructure (i.e. bike lanes, etc.) for cyclists.
Lake Bluff is located on Metra's Union Pacific North (UP-N) Line, which runs to Chicago ( as well as Kenosha, Wisconsin) on a daily basis. Parking at the train station is available on both daily and monthly basis.
Things to do in Lake Bluff
Lake Bluff Park District's ten parks/open space areas are maintained for the community's use in both unstructured recreation and for programmed events such as baseball and tennis. The district operates an outdoor aquatic facility, a recreation building, golf course, fitness center, ice skating rink, paddle hut, playgrounds and two beaches.
Lake Bluff hosts / sponsors many community events throughout the year marking major holidays. Additionally, The Lake Bluff Farmer's Market is open weekly from 7am to Noon, during the warmer months. Lake Bluff also offer concerts on Thursday and Sunday evenings during the summer.
About Moovers Chicago
Moovers Chicago is a family-owned, professional moving company based in Chicago. We offer a range of services, including residential, commercial moving and storage services. We also have packing and unpacking services to further ease the burden of moving. No matter the size of the job, our first priority is to make your move as stress-free as possible.