7 Steps To A Great Home Move To Lake Forest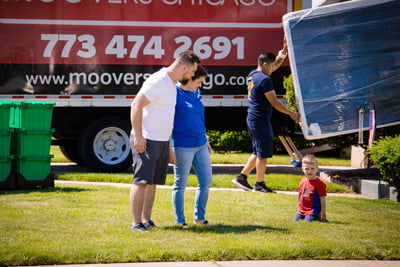 Moving home is a process that is not just about getting material possessions from one place to another, but for many people it will mean lifestyle changes or family changes that can be both exciting and daunting. Here at Moovers Chicago we don't just want to make sure your things get safely to your new home, we want to make sure it is as easy for you as possible. If you're getting ready to move to a new place in Lake Forest, give us a call to see how we can help. Here are a few steps that will help make that move easier:
Choose Moovers Chicago As Your Moving Company

Having our friendly and professional team on your side will really take the stress out of moving day, as you can be confident our team will get everything moved over efficiently for you. They have all had the right levels of training to get the bulky and heavy items moved safely, as well as equipment like harnesses so they can move boxes efficiently too.

Start Boxing Your Stuff As Soon As Possible

Once you have secured the move to a new place in Lake Forest, it is worth taking time to review the different areas of your home and identify what isn't in everyday use. Get those items, decorative items and the non-essentials packed nice and early so you have less stress approaching moving day.

Plan For Additional Services If You're Short On Time

Moovers Chicago do have additional services that can help in the build up to moving day. We can arrange for someone to visit and disassemble any flat pack furniture ready to be transported safely, as well as providing someone who will give your furniture a protective wrapping the day before moving day.

Arrange Care For Pets Or Children On Moving Day

It is very important to make sure that your children and your pets are safe, and as our team are moving heavy items, it is best to keep them away during the move. Look for day care, or ask friends and family for help for moving day itself.

Contact Your Service Providers To Notify Them Of The Move

This is a process that can take time, so let utility and entertainment service providers know that you're moving home in advance, and they can book any engineers required early for the work if needed.

Secure Parking For The Moving Truck

If your current home or new place doesn't have a driveway, we do need somewhere to park the moving truck, so we do ask that you get out early and secure that spot for our team to work.

Plan Your First Meal And Evening In Your New Home

With no heavy items to move you may still be tired from watching our team move and the unpacking work which you will have started, so either think of an easy dinner or look for takeout options so you don't have to worry too much on your first night in your Lake Forest home.