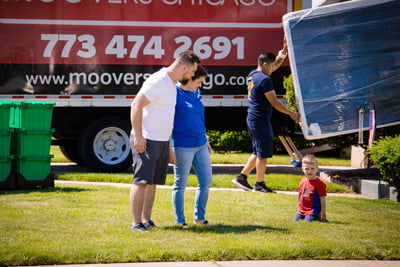 Relocating to Lake Forest
Lake Forest is a suburb of Chicago with a population of around 19,000 and a median income of $194K. Lake Forest, in Lake County, is one of the best places for families to live in Illinois and offers residents a sparse suburban environment, amazing schools, outdoor activities, and a good commute. Set yourself up for success in Lake Forest by making informed choices before you move. The easiest is choosing Moovers Chicago as your Lake Forest movers.
Real Estate in Lake Forest
The median home value is $1,123,700 with around 87% of residents owning their home; median property tax is $2,700. For those few who rent, the median rent is $1,900 / month (compared to the national average of $1,163).
Getting Around in Lake Forest
While most suburbs are car dependent, Lake Forest, with a Walk Score of 75 (out of 100), is very walkable and you can expect to do most errands on foot. A Bike Score of 66 means Winnetka is bike-able and has some infrastructure (i.e. bike lanes, etc.) for cyclists. Lake Forest as a Metra rail station that is on the Union Pacific North (UP-N) line with 9 parking lots accommodating 277 spaces.
Things to do in Lake Forest
Located on the North Shore of Lake Michigan just a train ride away from downtown Chicago, historic Lake Forest delights visitors with a diverse array of shopping, world-class golf, cultural experiences and outdoor pursuits. Deerpath Golf Course is an 18-hole, par 70 course. The Gorton Community Center, a nonprofit organization, presents film, classes and events year-round for all ages. The Glunz Family Winery & Cellars are producers of small batches of fortified and seasonal wines including a famous raspberry wine.
The Lake Forest Parks and Recreation Department is committed to providing residents of all ages a variety of programs, activities, and services including classes in areas such as art, athletics, dance, early childhood, golf, martial arts, sailing, and youth recreation.
About Moovers Chicago
Moovers Chicago is a family-owned, professional moving company based in Chicago. We offer a range of services, including residential, commercial moving and storage services. We also have packing and unpacking services to further ease the burden of moving. No matter the size of the job, our first priority is to make your move as stress-free as possible.