7 Reasons To Make Moovers Chicago Your Moving Company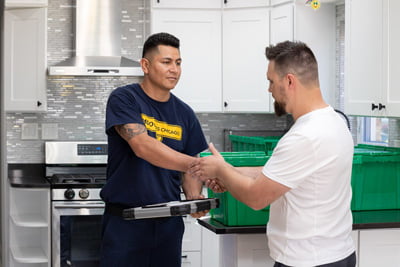 Getting a new home is an exciting process, but it can also be a taxing one, and even if you have secured a new home in the Loop area of Chicago there is still plenty of work ahead before you actually move in, including finding movers. One of the things you will have to arrange is how to get all of your things over to your new home, and Moovers Chicago is a reliable and experienced company at moving residential and commercial premises that can help to make this happen. Having a moving company gives you more time to get everything else that you will need to do arranged, so here are seven reasons why Moovers Chicago should be your first choice.
Take The Strain Of Moving Day

Having a company that can complete the moving work for you will be a great relief, and by not moving all your heavy and bulky furniture yourself, you will avoid any physical tiredness once you arrive, as well as making sure everything gets to the destination with minimal chance of damage.

Excellent Reputation

We have developed a great reputation for the moving services that we offer to residential and business customers, and we are proud that so many customers are happy to give us great feedback. See our profile on the Better Business Bureau, or check out the reviews on sites like Yelp and Google Reviews.

Clear Pricing Structure

We believe in being honest and up front, so when you receive a quote from us for our moving services, there isn't anything else hidden in the background. Our services are clearly priced, and the same goes for any additional services that you choose to make the experience easier.

Furniture Wrapping Service

Keeping your softer furniture like couches and chairs safe during the move can be a priority, and if you need us to send someone to make sure that everything is wrapped up safely and securely before the move, then we're happy to arrange this for you.

Great Customer Service

Our movers want to make sure that you are comfortable and happy throughout your home move to Loop. All of our team are here to answer any questions you have, keep you in touch with the move and generally make sure you're satisfied with our service.

Flexibility For Your Move

We know that moving home isn't always free of hiccups, so we do offer some flexibility for our services. If you need to rearrange, then we can change the date of the home move for free as long as we have notice of 72 hours, while we can also arrange short term storage for a few days if needed as well.

Furniture Dis-assembly And Installation

Some items of furniture such as shelving and wardrobes are often better and safer to transport in flat pack, and if you are short on time, one of our team can arrange for these to be dismantled and then re-assembled upon arrival in your new home..
Nearest Neighborhoods