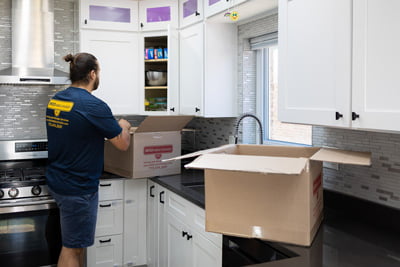 Relocating to Northbrook
Northbrook is a suburb of Chicago with a population of around 35,000 and a median income of $144K. Northbrook, in Cook County, is one of the best places for families to live in Illinois and offers residents a dense suburban environment, amazing schools, outdoor activities, and a reasonable commute. Set yourself up for success in Northbrook by making informed choices before you move. The easiest is choosing Moovers Chicago as your Northbrook movers.
Real Estate in Northbrook
The median home value is $571K with around 88% of residents owning their home; median property tax is $2,900. For those who rent, the median rent is $1,900 / month (compared to the national average of $1,163).
Getting Around in Northbrook
Unlike many suburbs, Arlington Heights is very walk-able, with a score of 84 (out of 100), meaning most daily errands can be done on foot. A bike-ability score of 63 indicates the presence of some infrastructure for cyclists (bike lanes and trails, hills, road connectivity, etc.).
Northbrook has a Metra train station on the the MD-N line and travels to and from Chicago with 25+ daily trips. The Northbrook station has 6 parking lots with a total of 708 space (combined permit and daily). The commuter parking lots are open 24 hours a day. The daily parking fee is $1, except on weekends, federal holidays or weekdays after 10 a.m. at which time there is no fee.
Things to do in Northbrook
The Northbrook Park District provides and maintains more than 500 acres of land in 23 park areas, offering distinctive opportunities for recreation, health, and fitness. You can play, learn, celebrate and enjoy nature in our parks, playgrounds and natural areas. Facilities include all types of sports courts and fields, 9 and 18-hole golf courses, bocce ball, chess boards, dog parks, and fitness studios / gyms.
The excitement of competitive bike racing can be found year-round at Northbrook's nationally-renowned quarter-mile outdoor bike track, the Ed Rudolph Velodrome, where top cyclists from around the world compete for major titles. The Velodrome hosts weekly races in the summer and offers training sessions, special events and Friday bike races for amateur riders of all ages.
Nearest Neighborhoods
About Moovers Chicago
Moovers Chicago is a family-owned, professional moving company based in Chicago. We offer a range of services, including residential, commercial moving and storage services. We also have packing and unpacking services to further ease the burden of moving. No matter the size of the job, our first priority is to make your move as stress-free as possible.
.