The Advantages Of Using Moovers Chicago For Your Glenview Home Move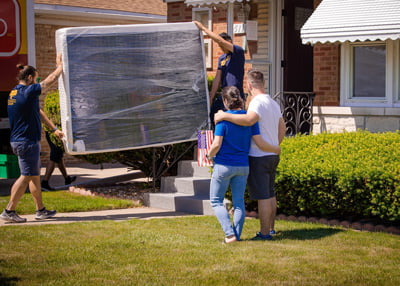 If you are looking at moving services for moving to your next home in Glenview, then you have come to the right movers as we have everything that you will need to get everything done with a minimum of stress. Moving home will often have a small window in which to get everything moved from your current premises to your new home, and following weeks of planning a day of hard physical work can really be the final straw. Having a professional and courteous team to take the stress of moving day off your shoulders at least can help to ease that worry, and allow you to unpack on your first day in your new home without bruises and aching muscles.
Safely Move Large And Bulky Items
One of the most challenging parts of any moving day if you are thinking of doing the work yourself is the large and bulky items that will need to be carried and flipped to try and get them through doors and into the truck outside. Our professional movers are experts at moving these items from all types of property, whether it is a condo, apartment or house, and getting them safely into your new Glenview home. The first items that most people will think about here will be sofas and couches, but often the wardrobes and other large items can also be worth considering, and we can even offer to help with dis-assembling these and then rebuilding them in the new property.
Service Tailored To Your Budget And Needs
Another of the advantages of using Moovers Chicago for city moving or suburban moving is that we have a suite of services that we can offer, and we can adjust these to match your needs and budget. If you would like help with furniture packing then we can help with this the day before, and we can also rent boxes that will help you to move TV sets safely, and wardrobe boxes to move all your clothes cleanly and safely to your new home. If you are on a slightly tighter budget then we can also help with guidance on how you can help to keep the costs down by packing the items yourself, and we will just move them for you.
A Highly Regarded Local Company
Moovers Chicago is a company that is family run and has been long established in the moving services industry in Chicago, so you know you'll have a company that is at the heart of the community and active in supporting charitable organizations in the area. Our team are ready to answer any questions you have and are always there for help and advice throughout your move to Glenview, and we are also fully insured and licensed by local government in Chicago. If you would like to find out more about the high level of service you can experience with us, check out our reviews with the Better Business Bureau, where some of our wonderful customers have been very kind.