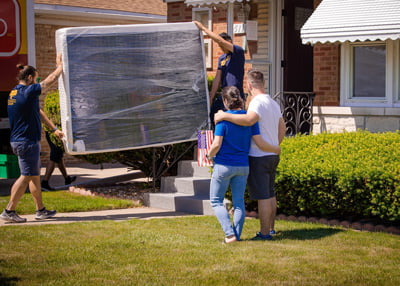 Relocating to Glenview
Glenview is a village in Illinois with a population of approximately 48,000 and a median income of $112K. Glenview, in Cook County, is one of the best places to live in Illinois; it has an dense urban feel, amazing schools, reasonable housing, and highly diverse. Set yourself up for success in Glenview by making informed choices before you move. The easiest is choosing Moovers Chicago as your Glenview movers.
Real Estate in Glenview
The median home value in Glenview is $530K with around 80% of residents owning their home; median property tax is $2,700. For those who rent, the median rent is $1,900 / month.
Getting Around in Glenview
Glenview is extremely walkable with a score of 74 (out of hundred). This means most errands can be accomplished on foot. A bike score of 48 means there is only limited infrastructure (i.e. bike lanes, etc.) for cyclists. Glenview is along the 422 Linden CTA - Glenview - Northbrook Court Pace bus line. The Metra rail line has a Glenview stop that has both local and express trains where travel time to The Loop varies from 25 to 45 minutes.
Things to do in Glenview
Glenview has a range of activities for the whole family. A day with the kids can include a visit to the Kohl Children's Museum or Funtopia. Alternatively you can do some shopping at the Glen Town Center. A night out for the adults can include a luxurious dinner at Cafe Lucci. Elly's Pancake House is great for breakfast lovers.
About Moovers Chicago
Moovers Chicago is a family-owned, professional moving company based in Chicago. We offer a range of services, including residential, commercial moving and storage services. We also have packing and unpacking services to further ease the burden of moving. No matter the size of the job, our first priority is to make your move as stress-free as possible.