Why Choose Moovers Chicago If You're Moving Home To Ukrainian Village?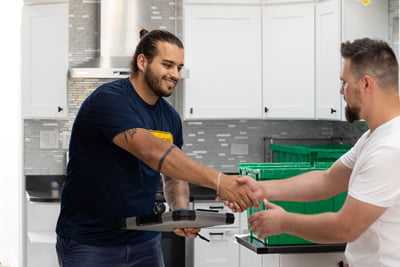 Securing a new home in Ukrainian Village is obviously an exciting time and you'll be anticipating the next phase of life in your new home, but before you get there you will find a busy time of work and preparation ahead of you. Having a good moving company can make a big difference to how well the home move will go, and the more furniture and possessions you have the more work it can be. Moovers Chicago is the natural choice for anyone moving in the Chicago area as they have helped hundreds of people and businesses to complete successful home and commercial moves and can do the same for you. Moovers Chicago is the premier movers for Ukrainian Park.
A Well Established Company With An Excellent Reputation
Moovers Chicago is a family run company that has built up the fleet of vehicles and a high quality staff over years of providing moving services, which allow us to offer the best service. We have developed a strong reputation for our high quality residential and business moving services, and were proud to be accredited by the Better Business Bureau because of the quality of service we can provide. You can also see many positive reviews from satisfied customers, both on the Better Business Bureau website and on other sites like Yelp or Google Reviews.
Caring And Professional Home Move Service
We are passionate about giving the best service we can, and all our team know that it isn't just boxes and couches that we are moving, but it is actually people's lives that are moving along with those things. All our teams are highly trained in handling and moving furniture and boxes safely, and even bulky or heavy items can be moved with the minimum of fuss. We will make sure that everything will get moved over safely to your new place in Ukrainian Village, and that you can enjoy the peace of mind knowing that everything will be well taken care of.
Fully Licensed And Insured For All Home Moves
As a professional company we know that it is important to make sure everything is done in the right way, so we are accredited and licensed by the local government authorities. We also take care to ensure that our liability insurance and other insurances are all kept up to date and give us the cover we need for every home move that we carry out.
Additional Services To Help Your Move To Ukrainian Village
Along with taking the strain of moving day, Moovers Chicago also have other services that can further improve your home move to Ukrainian Village. We can arrange a team member to visit your home the day before the move to dismantle any flat pack furniture like wardrobes so that they are safe during the move. We can also provide a furniture wrapping service so that all of your larger furniture items have a protective layer to keep them safe during the home move. Clothes can also need particular care during a home move, so we can provide wardrobe boxes too which allow transport of clothes cleanly and safely.