Having A Great Home Move Experience Going To Highland Park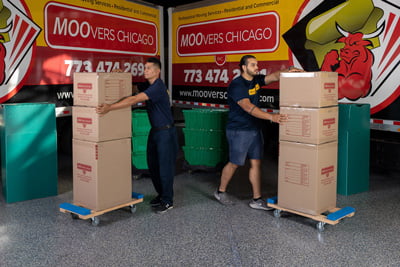 There are many things that can crop up when you are looking for a new place to live, so in many cases even finding the right home is something that can take time and effort. However, once you have found the right place, you will be excited to move but also aware that there is quite a lot of work involved in getting all your things ready and the moved over. If you've recently arranged a new home in Highland Park, then one of the steps you should consider is speaking to Moovers Chicago to get our movers team on board for your home move. Moovers Chicago is the premier movers for Highland Park.
How Moovers Chicago Will Improve The Process
Having a reliable and professional team on your side for your home move can make a big difference to how easy your move is, and how you'll settle in to your new home. Knowing that we have moving day itself handled for you should give you more time and patience to be able to deal with the other steps that you need to do in order to complete your home move. You will also have the peace of mind that your furniture will be handled and cared for by professionals, so that everything will arrive in your new home in good condition.
Why Starting Packing Early Reduces Your Stress Levels
Once you've secured your new place you really will want to start packing early, as this will make the rest of the process much easier and more comfortable. Start going through your current home a few weeks before moving day, and get all of the non-essential items and decorative things packed in boxes in readiness for your home move. By doing this, it means you'll have less to do in the day or two before the move, and you can then give more attention to the final preparations and make sure everything is done properly.
Other Services That Can Help Smooth The Journey
By having Moovers Chicago booked for your home move, you also have the option of using some of their additional services that can make moving home even easier. The first of these is the dismantling of flat pack furniture in your current home, and then the assembly of these in your new Highland Park home. We can also offer a service where we visit your home to add a protective wrapping to your furniture items such as couches and chairs, so that they are protected and safe during the move itself.
What To Expect On Moving Day
We do ask that you make sure there is space for our truck to park at each end of the home move, but other than that you can take a back seat as our team do all the work of moving your furniture on to the truck. Within no time, we will be unloading everything into your new home, and if you have used our furniture assembly service getting those ready for you too. Then its over to you to get your things unpacked and into the right place, so you can start enjoying your new home in Highland Park.