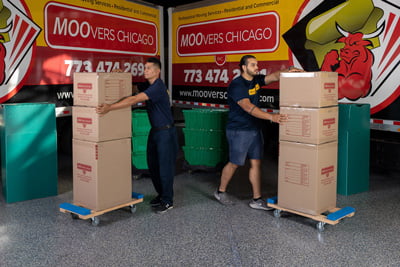 Relocating to Highland Park
Highland Park is a suburb of Chicago with a population of around 30,000 and a median income of $153K. Highland Park, in Lake County, is one of the best places for families to live in Illinois and offers residents a dense suburban environment, amazing schools, outdoor activities, and a reasonable commute to downtown Chicago. Set yourself up for success in Highland Park by making informed choices before you move. The easiest is choosing Moovers Chicago as your Highland Park movers.
Real Estate in Highland Park
The median home value is $524K with around 84% of residents owning their home; median property tax is $3,200. For those few who rent, the median rent is $1,800 / month (compared to the national average of $1,163).
Getting Around in Highland Park
Highland Park is car dependent. With a walk-abilty score of 42 (out of 100), most errands will require a care. Highland Park's bike-abilty score of 52 means there is some limited infrastructure (i.e. bike lanes, etc.) for cyclists.
The Highland Park Metra station provides light rail service to downtown Chicago along the Union Pacific North (UP-N) line. The station features 10 parking lots with a total of 191 space (combined daily and permit). Highland Park is also serviced by two PACE bus routes (471 & 472).
Things to do in Highland Park
Highland Park is a wealthy Chicago suburb that is perfect for music lovers. Located along Lake Michigan's North Shore, this area is home to one of the country's most prestigious music festivals – the Ravinia Festival. The festival is held in Ravinia Park which was established in 1904 as an amusement park. Additionally, the Chicago Symphony Orchestra makes Highland Park its home during the summer months. This abundant local music scene has helped Highland Park become an epicenter for the arts; as such, it is home to several theaters and fine arts centers. Other amenities in this area include boutiques, luxury storefronts, restaurants, and a friendly, welcoming atmosphere.
About Moovers Chicago
Moovers Chicago is a family-owned, professional moving company based in Chicago. We offer a range of services, including residential, commercial moving and storage services. We also have packing and unpacking services to further ease the burden of moving. No matter the size of the job, our first priority is to make your move as stress-free as possible.