The Three Stages Of A Home Move To Steeterville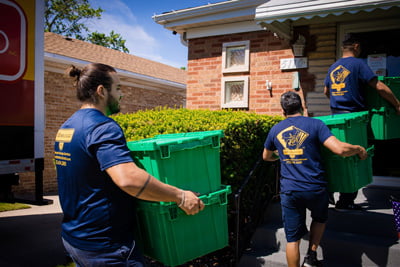 The anticipation of moving in to a new home can be a wonderful feeling, but before you get to satisfy that anticipation there is plenty of work to do to get everything ready and to complete the move. One of the best things you can do to ensure a smooth moving experience is to get Moovers Chicago's movers on board so that one of their professional teams can handle all of the work of moving day, and let us take the heavy lifting work, including to your new Steeterville home. We have helped every kind of residential, business and commercial customer move location over the years, so you can have peace of mind from our support. There is still plenty of preparation to do, and if you've just got confirmation of a new place in Steeterville, then its time to get to work. Moovers Chicago is the premier movers for Steeterville.
Getting Ready For The Move

In most cases you will have a reasonable notice of the home move, so start your packing early to give yourself the best chance of a stress free move. There are so many things in our homes that don't get used on a regular basis, so get these packed up and ready to go in the weeks leading up to the move. Ideally it should just be the essentials that you have to pack when the move is imminent.
There is also a lot of administrative work that comes with moving home, so get a good early start on this too, especially with utilities or services companies where they may need to visit the property to get things started. Make sure you set aside a reasonable amount of time for this, as calling different companies isn't always quick.

Final Preparations

On the eve of moving day is when you may have a reasonable amount of work to do, including giving all your larger furniture items a protective wrapping, and dismantling flat pack furniture for the move. Moovers Chicago do have services to help with these tasks, if you are unsure about doing them yourself or you are pressed for time with family or work commitments. You should also get the final box packed with the essentials that you'll open up on arrival in your Steeterville home, so think about what little basics like snacks or toiletries you might want before starting on the unpacking work.

What To Expect On Moving Day

There are two things that Moovers Chicago will ask you to arrange for moving day. Firstly, so that our team can work efficiently we do ask that you arrange care for young children and pets elsewhere on moving day. Secondly, we do need to have somewhere to park the truck, so if either property doesn't have private parking we ask that you arrange a space for our truck to park.
Our team will arrive and they will efficiently and professionally get all of your boxes and furniture on to the truck, stowing everything safely to minimize any movement during transit. Within a short time our movers complete the process in reverse, and get everything safely into your new place in Steeterville. Then it is over to you to get started with the unpacking and settling in to your new home!