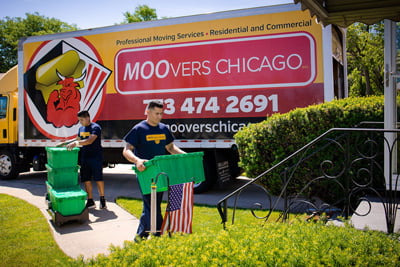 Relocating To Old Town
Old Town is a neighborhood in Chicago with a population of around 23,000 and a median income of $136K. Old Town, in Cook County, is one of the best places to live in Chicago and offers a mixed dense urban neighborhood with great nightlife, plenty of outdoor activities and a great commute to downtown. Set yourself up for success in Old Town by making informed choices before you move. The easiest is choosing Moovers Chicago as your Old Town movers.
Real Estate in Old Town
The median home value is $576K with around 47% of residents owning their home; median property tax is $3,100. For those who rent, the median rent is $2,000 / month (compared to the national average of $1,163).
Getting Around in Old Town
A car is definitely not a requirement for living in Andersonville. With a Walk Score of 98, there is no requirement for a car for errands. A Bike score of 92 means it is very bike-able, with plenty of infrastructure (i.e. bike lines, etc.). Additionally, Old Town is part of the world-class Chicago Transit Authority (CTA) with both bus and rapid-transit rail options.
Things to do in Old Town
Old Town is home to comedy star-maker The Second City, which introduced the world to Bill Murray, Chevy Chase, Gilda Radner, Aidy Bryant, Cecily Strong, Mike Myers, Chris Farley, Key and Peele, John Belushi, Jane Lynch, Tina Fey, Steve Carell, and…well, you get the picture. You can catch a live show every night of the week, featuring the city's top up-and-coming talent.
Wells Street is the main drag where you'll find tons of buzzing spots to eat and drink — it's a top spot for bar hopping with the younger crowd. Orso's Restaurant, Happy Camper, Broken English Taco Pub, and Gussie's Handmade Italian are a few popular options in the area.
Another watering hole not to miss — Old Town Ale House, a go-to for Second City cast and alums and a favorite of Anthony Bourdain, where you'll find locals at the bar and the owner's art lining the walls.
For those with a sweet tooth, stock up on handmade chocolate confections at The Fudge Pot, where everything has been made in-store since 1963.
Nearest Neighborhoods
About Moovers Chicago
Moovers Chicago is a family-owned, professional moving company based in Chicago. We offer a range of services, including residential, commercial moving and storage services. We also have packing and unpacking services to further ease the burden of moving. No matter the size of the job, our first priority is to make your move as stress-free as possible.