7 Reasons To Use Moovers Chicago When Moving Home To Old Town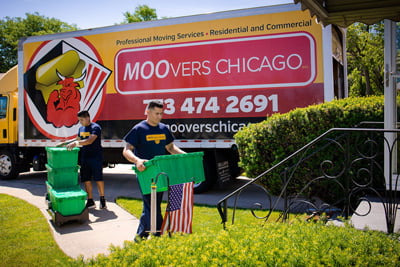 Sorting out everything that you need for a home move can be quite a challenge, as there is so much to consider and an almost never ending list of different things to arrange. If you hire Moovers Chicago however, one thing you won't have to worry about is moving day, as we'll assign a suitable truck and team for the move so that everything on that front is taken care of. Our team of movers have helped so many people to get to new homes in Old Town and across the Chicago area, so you can have confidence we can improve that part of the moving experience for you.
A Reputable Family Run Company

Our team has developed an excellent reputation over the years, and we are proud of the service that we can offer to both our residential and business from start to finish. We have had many reviews on websites like the Better Business Bureau and Google Reviews, where our customers have been very kind, so have a look for yourself.

Professional Handling For Your Items

When moving heavy or bulky items, breakages and accidents can happen, but we eliminate these by making sure that all our teams are fully trained. Our movers have all of the skills and experience to make sure that this doesn't happen and that everything gets safely over to your new place in Old Town.

Experience In All Kinds Of Home Move

When you think of all the different types of properties to be found in Chicago, from large prominent houses through to condos and apartments, and even commercial premises too, and we have helped people move from all kinds of homes. This means we know the different ways to deal with home moves which makes us more efficient.

Fully Insured And Licensed

We are fully up to date with the regulations from government in Chicago, and always ensure we are appropriately licensed. We also make sure we have the necessary liability insurance policies in place for us to operate in Chicago and across Illinois.

Flexible And Friendly Service

Our office team are always happy to discuss your situation and to help with your home move where possible. If circumstances change, as we know they can from time to time, they can also help to rearrange the move at no extra cost, as long as you give a minimum of 72 hours notice beforehand.

More Time For You To Focus On The Other Aspects Of Your Home Move

By letting Moovers Chicago take care of moving day, it will give you more time to complete things like the packing which is certainly a big job in itself. It also allows you more time to do the boring work like speaking to all of the utility companies and service companies to get those all ready too

Additional Services For An Easier Moving Experience

If you are nervous about packaging your furniture or are simply short on time, we can also arrange for someone to wrap your furniture and also to dis-assemble flat-pack items like shelves, and then offer assembly in your new home too.