7 Steps To Make Your Winnetka Home Move Easier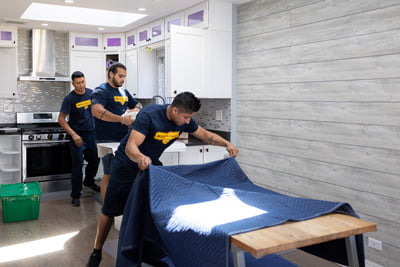 Moving home can be one of the most stressful experiences that anyone will have to undertake, but by taking time to prepare properly and having the right support you can make it a whole lot easier. We know that you don't really want to be spending too much time actually moving, and you just want to be relaxing and starting to put your stamp on the new home in Winnetka. Moovers Chicago is premier movers in Winnetka.
Here are seven steps that you can take that will make attaining that first night in you new home easier.
Start Your Packing Early: This is definitely one of the things that will make the move easier. You don't want to be rushing on the night before moving day packing and boxing everything. Think about the decorative items and the things in each room that you don't use too regularly, and get them boxed and ready for the move well in advance.
Hire Moovers Chicago To Deal With Moving Day: We are the first port of call for moving day, as we are an experienced company with an excellent reputation for providing a great moving service. Our professional team of movers will take care of the heavy lifting, and they are all trained to get your furniture moved safely and efficiently to your new home in Winnetka.
Plan To Keep Children And Pets Elsewhere: This is one important step for moving day, as our staff are looking to work quickly and efficiently, and we want to make sure your children and pets are safe. Think of leaving them with family and friends or in daycare for a few hours, before they join you in your new Winnetka property.
Packing Delicate Items Securely: It is important to think about delicate items like electricals and how to pack them, but also clothes and keeping them safe and clean during the move. We can offer TV boxes and wardrobe boxes to help here, and packing all of these items securely will help us to get them all to the destination quickly and safely.
Secure The Space For The Truck Early: One thing we do ask you to arrange is making sure that there is a space available outside the two properties for our truck. This will allow us to get everything loaded and unloaded promptly, and help you to get everything over to your new home in good time.
Use our Services (Our Dis-assembly / Assembly, Packing / Unpacking): Whether you have one or several items of furniture that need to be dis-assembled for the move, we can arrange for one of our staff members to visit your home and to get these ready for the move. We can also then re-assemble these items in the right rooms of your new home.
Get The Local Take-out Menus Ready For Your First Night: Finally, you're going to want to relax on the first night in your Winnetka home, so get those menus in and enjoy a well deserved take out once you have completed your move.