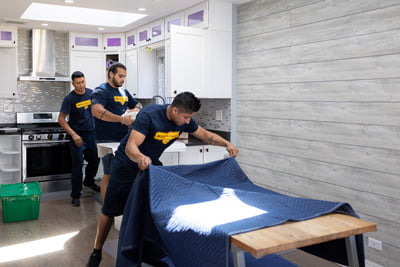 Relocating to Winnetka
Winnetka is a suburb of Chicago with a population of around 13,000 and a median income of $250K. Winnetka, in Cook County, is one of the best places for families to live in Illinois and offers residents a sparse suburban environment, amazing schools, outdoor activities, and a reasonable commute. Set yourself up for success in Winnetka by making informed choices before you move. The easiest is choosing Moovers Chicago as your Winnetka movers.
Real Estate in Winnetka
The median home value is $1,123,700 with around 91% of residents owning their home; median property tax is $4,000. For those few who rent, the median rent is $1,700 / month (compared to the national average of $1,163).
Getting Around in Winnetka
While most suburbs are car dependent, Winnetka, with a Walk Score of 89 (out of 100), you can expect to do most errands on foot. A Bike Score of 70 means Winnetka is very bike-able and has plenty infrastructure (i.e. bike lanes, etc.) for cyclists.
Winnetka has three Metra stations on the Union Pacific North Line (UP-N), providing convenient access to downtown Chicago.
Things to do in Winnetka
The Winnetka Park District (WPD) operates and maintains a total of 27 parks-encompassing over 242 acres. Within Winnetka, there is also forest preserve land operated by the Forest Preserve District of Cook County (FPDCC). The District maintains over 68,000 acres of land in Cook County, 80% of which is estimated to remain in a wild or semi-wild, natural state. Forest preserve areas are open sunrise to sunset 365 days a year.
At virtually any time of the year, local activities and events abound for residents, including parades, farmer's markets, and a music festival. The Winnetka Music Festival takes place in June and is sponsored by the Village of Winnetka; it features artists who are emerging as some of the newest breakout names in the music industry.
Nearest Neighborhoods
About Moovers Chicago
Moovers Chicago is a family-owned, professional moving company based in Chicago. We offer a range of services, including residential, commercial moving and storage services. We also have packing and unpacking services to further ease the burden of moving. No matter the size of the job, our first priority is to make your move as stress-free as possible.