Choosing The Right Moving Company For A Move To Wilmette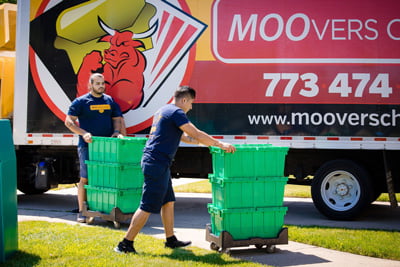 Having secured a new home in Wilmette, one of the things that your thoughts will then turn to is moving day, and while it is normal for this to be a worry it can be very exciting as well. One of the biggest things that you can do to make it less stressful is to have the right moving company in place that will take the stress of moving day away, and can also help with the before and after services as well. It is important to make sure you have the right company in place, as this can make a big difference to how smoothly your move to Wilmette will be. Moovers Chicago is the premier movers for Wilmette.
Professional And Experienced
Moovers Chicago has been providing these services for many years, and we have worked hard to build up the service we provide and the size of the team that we have available. Our staff of movers are all well trained before being allowed to move our customers' furniture and goods, and are all fully equipped with the right harnesses, trolleys and equipment to move everything efficiently and safely to your Wilmette home. When you hire us for your Wilmette home move, you can be confident that you will have a professional team with a suitably sized vehicle on board to make moving day a breeze.
A Full Start To Finish Service
From the first time you call us our team will take time and care to make sure that you are fully informed and updated with everything related to your home move. As well as the service on moving day itself, we can also offer some services to help you prepare for moving day, including wardrobe and TV boxes to keep these delicate items safe, and even a furniture wrapping and dis-assembly service to help you get ready for moving day. Our staff can also install or assemble those larger pieces of furniture once they are in the new property for you too!
Excellent Customer Service
One of the factors that Moovers Chicago takes great pride in is the level of customer service that we offer to our customers, and that involves being transparent with you from the start. When we provide a quote for our moving services, we aren't trying to be the cheapest quote available to get the job, we aim to offer a fair quote that has no hidden charges. We are also happy to do everything we can to make your home move easier, so if you have any questions just ask one of our team and we'll do our best to help.
A Local Family Run Company With A Strong Reputation
Moovers Chicago is your best choice for a moving company when you're moving to Wilmette, as we are family run and have built our reputation in the Chicago area for providing great moves with professional movers. We are accredited with the Better Business Bureau, and we are also insured and fully licensed by local government to provide our services in Chicago and across Illinois. Check out the reviews we have received from some of our customers on sites like Yelp, where you can see the level of customer satisfaction that we aim to deliver for our customers.