Moovers Chicago has the experience and knowledge to make things easier and smoother for your home move. We are the premier Bucktown movers.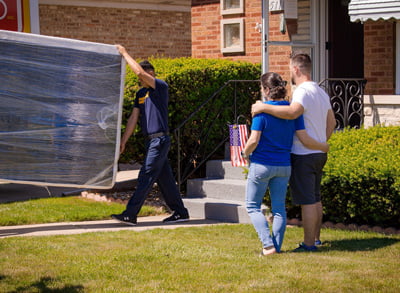 Living in Bucktown
Bucktown is one of Chicago's trendiest neighborhoods, and is part of the larger Logan Square community. Know for its artsy vibe, Bucktown is a great alternative for living close to DePaul University and Downtown, especially when compared to the very attractive yet very expensive Lincoln Park neighborhood.
Housing in Bucktown varies from converted Victorian mansions, contemporary apartment buildings to to single-family homes and duplexes. This lends a distinct flavor to Bucktown's architectural scene; buildings that have been around for generations right next to new construction give Bucktown an eclectic feel. Housing prices range widely from $239K to $3.5M. Rentals can be found anywhere between $1.1K to $9.8K a month.
Bucktown has a range of residents: there are young professionals, married couples with children, and retired citizens. The main thing they have in common is an appreciation for the arts and entertainment.
Bucktown: Arts, Entertainment and Events
Bucktown really is the place to live if you enjoy art galleries and live music. In fact, a large percentage of residents are in creative fields. Additionally there are many local galleries and artist communities. The Flat Iron Building is home to many artists' galleries including well-known professionals as well as debut artists. Besides the art galleries , the area hosts a several annual art festivals, like The Bucktown Arts Fest and Around the Coyote.
While the Bucktown Arts Fest also features local musicians, there are many venues in the area that showcase live music. The area is home to a number of boutique stores, trendy restaurants and a good variety of night clubs, from local bar to boisterous live music. If you love the Blues, then check out the Gallery Cabaret. If your musical tastes are more eclectic then The Hideout might be the place for you.
Nearest Neighborhoods
About Moovers Chicago
Moovers Chicago is a family-owned, professional moving company based in Chicago. We offer a range of services, including residential, commercial moving and storage services. We also have packing and unpacking services to further ease the burden of moving. No matter the size of the job, our first priority is to make your move as stress-free as possible.
Moovers Chicago is the premier movers in Bucktown.