How Can Moovers Chicago Make Your Home Move Experience Better?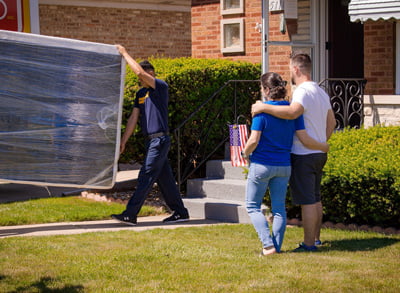 There are so many things to think about when you are planning to move home, and doing all of the house hunting, finding the right property and negotiating the deal to buy or rent is only the start of this. Once you've secured your next property in Bucktown, the next step in the process is to start to work towards moving day, and doing all of the preparations to leave one home and move to another. One of the biggest decisions you can make to improve the process is to hire a reliable home movers in Bucktown; Moovers Chicago has been helping people and businesses to move home and commercial premises for a long time.
Careful And Appropriate Handling Of Your Furniture And Possessions
One of the biggest reasons that people will give when wanting to use a moving company is that they will be better able to look after their furniture and possessions, and this is certainly true with Moovers Chicago. All of our teams and staff are fully trained on how to handle boxes and furniture appropriately, and they are given all of the right equipment to help them to do so. Even larger, heavier and bulkier items will be transferred efficiently and safely by our movers from your current property over to your new place in Bucktown.
Dis-assembly And Reassembly Services In Your New Bucktown Home
For those people who aren't too hands-on or are simply too busy with life and work to be able to do this, our staff can arrange to carry out this element of the work for you. We can arrange for someone to dismantle the flat pack furniture items like shelving and wardrobes, and then get them ready for the move, before returning the following day to repeat the process in the new home. This can actually save you quite a lot of time, especially if you have several items that you will need to dismantle.
Reduce The Stress Of Moving Day
One of the biggest ways in which Moovers Chicago makes the home move better is that we take care of the biggest pressure point in the process which is moving day. The only thing you have to worry about on the day of the move to Bucktown is that you do need to make sure there is space outside each property for the truck to stop. Our teams will then take the strain from there, and make sure that everything is moved swiftly and safely, so that you will soon be looking at all of the boxes and furniture in your new home, and thinking about getting everything unpacked.
Additional Services And Products To Smooth The Home Move Process
As well as the furniture dis-assembly services, we can also offer a furniture packing service to put a protective layer over items such as couches the day before moving day to keep these items clean and safe. We can also offer wardrobe boxes that will allow you to move delicate clothing without having to fold them, along with renting TV boxes if you haven't retained the original packaging material for your TV.