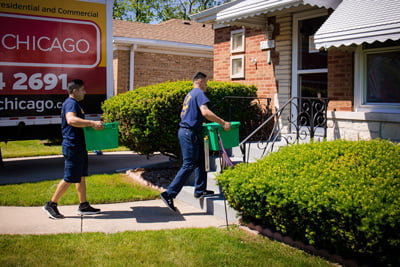 Relocating To Evanston
Evanston is a suburb of Chicago with a population of around 78,000 and a median income of $87K. Evanston, in Cook County, is one of the best places for families to live in Illinois and offers residents a urban environment, amazing schools, outdoor activities, and cultural diversity. Set yourself up for success in Evanston by making informed choices before you move. The easiest is choosing Moovers Chicago as your Evanston movers.
Real Estate in Evanston
The median home value is $411K with around 56% of residents owning their home; median property tax is $4,700. For those few who rent, the median rent is $1,500 / month (compared to the national average of $1,163).
Getting Around in Evanston
Unlike many suburbs, Evanston is very walk-able. With a score of 75 (out of 100) meaning that many daily errands can be done on foot. Evanston has a bike-ability score of 51, which indicates the presence of some infrastructure for cyclists (bike lanes and trails, hills, road connectivity, etc.).
Metra (commuter rail system that serves the greater Chicago area) has three stops in Evanston (Main, Davis, and Central) on the the Union Pacific North Line (UP-N), which connects Chicago's northern suburbs to downtown Chicago.
Additionally, Evanston is served by the CTA's (Chicago Transit Authority's) Purple Line "L" train from early morning to late evening. The Purple Line makes the following stops in Evanston: Central, Noyes, Foster, Davis, Dempster, Main, and South Boulevard. During the AM and PM rush periods, the Purple Line runs express to and from Chicago's Loop (downtown).
Things to do in Evanston
Home to the world-renowned Northwestern University, Evanston, offers wide sandy beaches, historic mansions on landscaped boulevards, tree-lined bicycle paths and beautiful parks make the city a popular lakefront destination. Evanston also boasts one of the largest and most diverse arts and theatre communities in the entire state, and its world-class dining options make Evanston one of the North Shore's most vibrant and inviting communities.
Located in the magnificent Charles Gates Dawes House, a chateau-style mansion overlooking Lake Michigan and home of the 30th Vice President of the United States, the Evanston History Center offers home tours and lectures. The Evanston History Center also offers docent-led walking tours throughout the neighborhood, which was home to Daniel Burnham.
With close to 90 cafes and restaurants, from award-winning Italian and Japanese cuisine to French, Asian and regional American specialties, Evanston's dining scene promises an exciting culinary experience guaranteed to satisfy even the most sophisticated palate.
About Moovers Chicago
Moovers Chicago is a family-owned, professional moving company based in Chicago. We offer a range of services, including residential, commercial moving and storage services. We also have packing and unpacking services to further ease the burden of moving. No matter the size of the job, our first priority is to make your move as stress-free as possible.