Planning Your Home Move To Evanston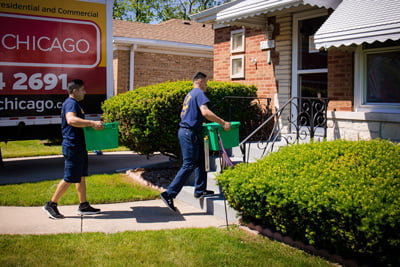 When it comes to moving home we all know how much of a stress it can be, when everything has to be ready for a specific day, and then you and often friends and family all chip in to try and get everything shifted. One thing that this experience will tell you is that this is not an easy job, and the logistics of planning for that day can really take a toll. And then on moving day, it is a struggle as you and whoever you have roped in for the work try to handle getting the bulky items through doors and into the new property, and by the end everyone's exhausted. Let Moovers Chicago help; Evanston premier movers.
How To Make Your Home Move Simpler
The older that you get, the more that you will realize that there are certain tasks that are best left to the professionals, and if you're planning your move to your new home in Evanston than this might be one to consider. We all accumulate belongings and treasured items as we go through life, from great furniture to the more fragile items like pictures, and they all need to be looked after as you move home. A professional home mover can really help to give you that peace of mind that everything will be done correctly.
Looking After Your Larger Furniture Items
One of the biggest challenges of moving home yourself is that moving large items of furniture like couches, beds and wardrobes can often be a really challenging experience. A professional team of home movers have the experience and training to know how to handle these items, and while doing it yourself can involve wiggling and time to get items through doorways, professional movers will do this more efficiently and safely. This can help avoid damage, scratches and grazes to the paint and doorways around both properties.
What Can Moovers Chicago Do For You?
If you're considering whether to hire a professional home movers to help with your move to or from Evanston, then Moovers Chicago can help with all aspects of your residential move. Not only can we have a team with a suitable vehicle ready for you on the day of the move, but we can also provide installation or assembly of furniture in the new property or packing and wrapping services on the day before. Whether you are moving to a townhouse, condo, apartment or another type of property, we have the expertise to help make your moving day easy.
Why Trust Moovers Chicago With Your Furniture?
Finding a company that you can trust for your Evanston home move is naturally important, and at Moovers Chicago we aim to offer an excellent service that will make moving home a breeze. We are fully licensed and insured as mandated by government rules, and we have a support team ready in the office to help you with any questions or queries. If you want to see what our customers say about us, then we're proud of the positive reviews we receive on sites such as Facebook, Yelp and Google Reviews.